Friends of Osinbajo Empowers Small Scale Business Owners in Nasarawa - THISDAY Newspapers
---
Friends of Osinbajo Empowers Small Scale Business Owners in Nasarawa - THISDAY Newspapers
Posted: 12 Mar 2021 09:28 AM PST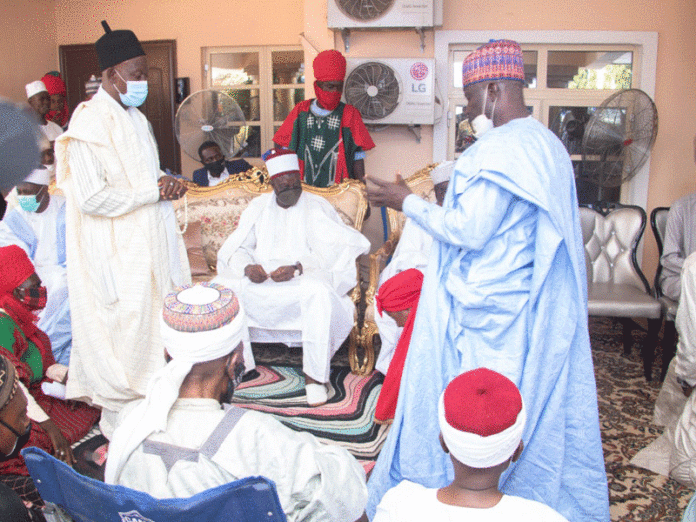 A group, Friends of Osinbajo, in commemoration of Vice-President Yemi Osinbajo's 64th birthday, has launched a one-off cash grant of N100,000 to 50 small scale business owners in Lafia, the Nasarawa State capital.
Speaking during the disbursement of the funds to the beneficiaries on Monday, the Emir of Lafia, Justice Sidi Bage Mohammad (rtd), offered special prayers for the longevity of the vice-president so that Nigeria would continue to tap from his enormous wealth of experience.
The Emir, who in December 2020 conferred the title of 'Madagun Jihar Nasarawa', meaning the 'Leader and Captain' on the vice-president, described him as a humane, humble and a detribalised Nigerian and prayed for the sustenance of unity and peaceful coexistence among the diverse groups in Nigeria.
"It is my prayers that Almighty Allah grants him many more years of abounding health, prosperity and enduring fulfilment. I wish the vice-president very happy birthday celebrations," the Emir prayed.
Governor Abdullahi Sule, who was the Special Guest of Honour and was represented by his Deputy, Dr. Emmanuel Akabe, welcomed the Friends of Osibanjo and also appreciated their goodwill for celebrating Prof. Osinbajo's 64th birthday with the people of Lafia.
After a careful selection, the group donated N5 million in total to 50 persons, who were mostly women across the local government areas of the state with each beneficiary receiving N100,000; this is in line with Osinbajo's core ideology in the area of empowerment, aimed at reducing poverty among the masses and to enhance the socio-economic growth of the people.
Similarly, in alleviating the water challenges faced by four communities in Lafia, the group also sank four boreholes in Mararaba Akunza, Kausakuwa, Ahuma and Lafia South respectively.
Also, sewing machines were given free of charge to a number of the beneficiaries.
The Secretary of the Tailors Association in the state, Safiyanu Abubakar, thanked the Friends of Osibanjo for their goodwill, support and assured them of their determination to use the newly acquired machines to propel small scale businesses.
Also speaking at the event, Osinbajo, who was represented by his Special Assistant on Political Affairs, Malam Gambo Manzo, encouraged the beneficiaries to make judicious use of the cash grant to propel their businesses.
According to him, the initiative is aimed at empowering small-scale business owners and the poorest in the communities to become self-reliant and avoid over dependency on white collar jobs.
"We have flagged off bore holes in four communities under the emirate council and also to give out a cash donation of N100,000 to 50 small scale business owners in order to boost their businesses and become self-reliant," he said.
A member of the House of Representatives representing Lafia Obi, Hon. Abubakar Sarki Dahiru, who represented the Friends of Osibanjo, noted that the boreholes are a necessity for the supply of pipe borne water in the aforementioned communities.
Hon. Hafeez Kawu, who is currently representing Tarauni Federal Constituency in Kano, also showered encomiums on the vice-president.
He said: "He took me as a son irrespective of religious and ethnic difference and has been a great leader. We pray he lives in good health.
"The communities that benefitted from the borehole gesture really deserve it, because potable water is scarce in those communities, but with this gesture, there will be enough water for them. So it is an intervention that will impact their lives."
The Leader of the Market Women Association and Nasarawa State Coalition of Business and Professional Associations, Hadeeza Sabo Jibrin, said: "We are excited about this empowerment and this is the first time we are receiving such goodwill from the Friends of Osinbajo and we hope that this will be sustainable."
Fitch Affirms UGI International at 'BB+'; Stable Outlook - Fitch Ratings
Posted: 12 Mar 2021 11:25 AM PST
[unable to retrieve full-text content]
Fitch Affirms UGI International at 'BB+'; Stable Outlook
Fitch Ratings
Oregon's Role in the Stimulus Package's Restaurant Relief Fund - Eater Portland
Posted: 12 Mar 2021 12:37 PM PST
On Thursday, March 11, President Joe Biden signed into law a new stimulus package with significant help for the nation's restaurant industry. The American Rescue Plan has allocated $28.6 billion in relief grants for food businesses, including restaurants, food carts, and bars. Of that funding, $5 billion has specifically been set aside for food businesses whose annual gross receipts were below $500,000, and grants will not exceed $10 million for restaurant groups and $5 million for individual businesses. The first 21 days of the period that these grants are distributed, businesses owned by veterans, women, and marginalized groups will be prioritized.
This restaurant relief package is a version of the Restaurants Act, a bill drafted and brought to congress by Portland's own Rep. Earl Blumenauer. That bill — a $120 billion grant program — eventually was tacked on to the second version of the Heroes Act, which never passed the Senate. This restaurant relief package was salvaged from the remains of the restaurant act, added to the American Rescue Plan in a more limited form.
Although it's not $120 billion in grants, this restaurant relief package is a significant, nationwide assistance specifically focused on the food service industry, which has been absolutely decimated by the coronavirus pandemic. Although Oregon has seen a handful of small-scale grant programs over the last year, the American Rescue Plan allocates aid specifically for this industry on a national scale, without the financial hang-ups or debt of the Paycheck Protection Program. And, in many ways, this specific package would not exist without the specific work of Oregon's food industry.
When Oregon restaurant owners and food service workers watched coronavirus creep into the state in early March 2020, they knew to call Erika Polmar. Now the executive director of the Independent Restaurant Coalition, Polmar was living a very different life two years ago. The founder of Plate and Pitchfork, a business organizing farm dinners and agritourism opportunities in Oregon, Polmar isn't exactly green to legislative work; she has advocated for farmers with state and local government, and served as an agritourism and land use policy consultant for Travel Oregon since 2016.
On March 13, 2020, a group of 70 Oregon industry professionals, including people like chef Naomi Pomeroy and then-Submarine Hospitality partner Luke Dirks, met at the event space within Ava Gene's building in Southeast Portland to discuss a plan moving forward for the restaurant industry in the face of novel coronavirus. They knew they needed help from the local government, but they weren't sure how to get it. Chefs like Doug Adams of Bullard reached out to Polmar for help, knowing her legislative background. Polmar drafted an open letter to Gov. Kate Brown, asking for things like a moratorium on commercial evictions, a ban on onsite dining, unemployment insurance for furloughed restaurant workers, and grant programs, specifically set aside for businesses with fewer than 125 employees to help with the loss in profits. More than 150 food service workers and business owners signed the open letter.
That letter, in many ways, was a starting point for a massive wave of grassroots activism on the part of the restaurant industry. That initial meeting of restaurant workers was an early version of the Portland Independent Restaurant Alliance; that organization, in turn, shifted into the Independent Restaurant Alliance of Oregon, which advocates for local restaurant owners across the state. Chef marketing and talent agent Andrew Chason reached out to Pomeroy — the owner of the now-closed Beast, Expatriate, and Ripe Cooperative — to connect her with the earliest iterations of the Independent Restaurant Coalition, and created a path for initial conversations with celebrity chefs like Tom Colicchio and José Andrés discussing restaurant relief policy and goals on a national scale. Pomeroy decided she couldn't be on any call or coalition without Polmar. "She understands legislation very well," Pomeroy says. "I knew I wouldn't do it without Erika."
The Independent Restaurant Coalition's goal, early on, was to figure out how a grant program would work for restaurant owners — one that provided aid with the understanding that COVID-19 was going to be a long-term problem for the food service industry. "[The Paycheck Protection Program] was an eight-week solution, which has become an 18-month problem," Polmar says. "Not only did it not work for restaurants, it was based on employment. It was a short-term solution." So they began talking to more restaurant owners around the country, to build some sort of grassroots campaign to advocate for independent restaurants on the congressional level.
Meanwhile, Rep. Blumenauer was trying to figure out the right way to help the restaurant industry. Blumenauer, a Portland-born politician who has represented Oregon's third district since 1996, has used Portland restaurants and cafes as the setting for conversations with constituents for decades, especially during campaigns. By the spring of 2020, Blumenauer knew he had to do something. "There were a number of late-night anguished text messages I received about challenges in the first round of the Paycheck Protection Program; it didn't look like it was going to work for them," Blumenauer says. "Hearing the stories directly was very powerful for me."
So, Blumenauer's office began talking to Portland restaurant owners, people like Han Oak's Peter Cho, Coquine's Katy Millard, Pomeroy, and Kann chef Gregory Gourdet. The congressman's team connected with the Independent Restaurant Coalition, who had been gathering their own research. The IRC developed a one-pager of policy recommendations, and began working with Blumenauer as he drafted the Restaurants Act. "Mr. Blumenauer was making calls to constituents early on, but one of the very first calls I had with him related to restaurant relief was via my agricultural relationships," Polmar says. "I was talking about what we needed, and he straight-up asked, 'What do you need, how did we help?' ... He listens, but he doesn't sit back and wait — he jumps into action."
He announced the plan to introduce the Restaurants Act on May 20, 2020. Now, almost 10 months later, the independent restaurants are finally seeing some form of national aid. But the legacy of the Restaurants Act extends beyond this piece of legislation. In many ways, it was a foundational step forward in how independent restaurant industry advocates for itself on a policymaking level in Washington, D.C. While industry groups like the National Restaurant Association do have influence in policy-making on the national stage, they don't necessarily represent the interests of smaller-scale restaurant industry — the foundation of Portland's food scene and restaurant markets around the country. "My impression is that the Restaurant Association pays most attention to the people who pay the bills, the Olive Gardens and Burger Kings, who are ubiquitous around the country, but don't have the same impact [that] the independent restaurants have," Blumenauer says. "The McDonald's, the Pizza Huts, they aren't iconic meeting spaces. They could be anywhere."
Now that the American Rescue Plan has been signed into law, Polmar and Pomeroy have a whole other task at hand: They're visiting restaurant owners, holding Zoom meetings, and trying to make sure small business owners around the state and country know about the funding that will soon be available to them. "Getting people to know about this is really challenging," Pomeroy says. "I don't think a ton of people know that there's 28.6 billion dollars sitting there … There's still a lot of work to be done."
Beyond that point, however, grassroots efforts like the IRC, as well as the countless local independent restaurant alliances nationwide, will still have a significant policy-making agenda to tackle. Once the industry is free of the grips of COVID-19, there are still numerous issues that disproportionately affect small restaurants and food service workers; the hope is, these groups of restaurant owners will still have a voice in their state houses with their lawmakers. But in many ways, this specific piece of legislation — the restaurant relief in the American Rescue Plan — started with a letter an Oregon food business owner wrote to her governor. "We used many of the principles that were in the original letter to Kate Brown as a starting point, but I don't want to overstate here, we had a policy committee of 10 people," Polmar says. "It's not a bunch of economists and policymakers; it was a bunch of business owners. What we did was very Schoolhouse Rock: The bill got to Capitol Hill because a bunch of citizens talked to their lawmaker and the lawmaker said, 'Yes this should be a bill.'"