Colorado Springs businesses credit Payroll Protection Program for survival - Colorado Springs Gazette
---
Colorado Springs businesses credit Payroll Protection Program for survival - Colorado Springs Gazette
Posted: 16 Oct 2020 12:10 PM PDT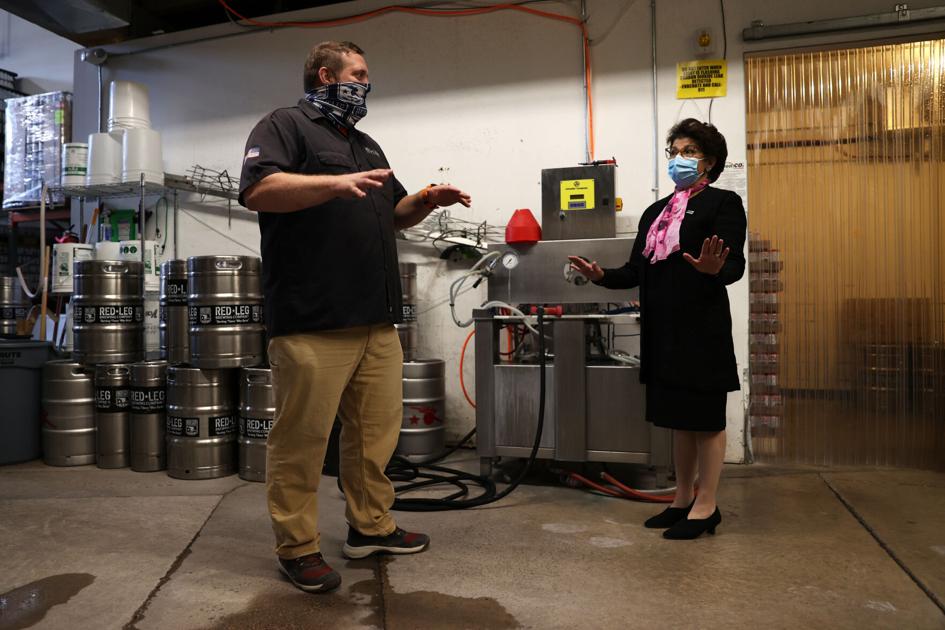 Red Leg Brewery had only enough money left to make payroll for four months when state restrictions to slow the spread of the COVID-19 pandemic forced the brewery to close in late March.
Todd Baldwin, Red Leg's founder and president, told his 16 employees he planned to keep them all on the payroll until the money ran out and forced the brewery to file for bankruptcy. But that day never arrived. The north-side brewery received $87,000 from the U.S. Small Business Administration's Paycheck Protection Program, created by legislation in March to help small businesses keep employees.
"The Paycheck Protection Program helped us survive as a business. We were one of many businesses that were told we couldn't do business (during the pandemic)," Baldwin said. "We kept everybody on our payroll (16 people) and gave them a raise to $15 an hour through August since we had cut their hours. I told our employees we had eight payrolls left we could make and then we would go bankrupt, but the PPP loan came a few days later."
Red Leg was one of five Colorado businesses and nonprofits SBA Administrator Jovita Carranza visited Friday to learn more about how businesses used PPP loans, which can be forgiven if 60% of the money is used for payroll. She also was "assessing the business climate" and seeking ideas on where to focus a possible additional round of PPP funding that could be included in pandemic relief legislation under negotiation between the Trump administration and Democratic leaders in Congress.
Red Leg has not only survived, but will move late this year into a $8.5 million brewing, dining and entertainment complex under construction at 2323 Garden of the Gods Road. The 2.5-acre complex, financed with a loan guaranteed by the SBA, could accommodate up to 2,500 customers, although Baldwin remains worried Red Leg will be able to use only a fraction of COVID-19 restrictions.
The new complex is a major expansion from the brewery's location in a warehouse district at 4630 Forge Road, which Baldwin financed by borrowing up to $300,000 on 18 credit cards to start the business. A 28-year-old entrepreneur with no experience in the beer industry, Baldwin said he had been turned down by 30 local banks for loans, so he and his wife used multiple cards in 2012 to finance the business and paid down the balances within two years.
"Many businesses are saying if there was another round of PPP, they could continue growing their businesses. Some businesses, such as restaurants and entertainment businesses are still hurting and could use more help," Carranza said.
"We have focused on the underserved market and smallest of the small businesses, and I am here to learn and apply what I learn" to shape future rounds of PPP loans.
Stephanie Richard received three types of help from the SBA to help Sparkles and Lace Boutique, a business she owns with Lisa Raulie, hire back its seven employees and survive being closed in the early months of the pandemic. The women's clothing store, which is expanding into men's clothing, received $19,000 in a PPP loan, a $7,000 grant and $6,600 in deferred payments on its SBA loan to bring back employees and pay rent on its building at 2140 Garden of the Gods Road.
"We would not have been able to make it with this help. We went more online while we were closed during the stay-at-home order and were really busy after we reopened but it slowed down afterwards," Richard said. The business had received the SBA loan a year ago to finance an expansion and would have struggled to make payments on the loan while closed, so the deferred payments helped Sparkles and Lace survive, she said.
The U.S. Olympic and Paralympic Museum in downtown Colorado Springs also received a $100,000 PPP loan to keep paying its staff and prepare for its July opening, said Christopher Liedel, the museum's CEO. The loan financed payroll for about 10 employees, which he said was "huge" in completing construction and keeping opening plans on track, such as making adjustments to meet pandemic-related requirements, he said.
Lawrence - A voice for District 70 | Ledger Independent – Maysville Online - Ledger Independent
Posted: 17 Oct 2020 07:32 AM PDT
Dear editor,
I am writing you to endorse William Lee Lawrence, State Representative for District 70. I've personally known Mr. Lawrence for over a decade. I have resided and worked in this area my entire adult life. Currently I'm a Licensed Insurance Agent with Bill Boggs – State Farm. A business that has provided insurance solutions to those in the area for over 35 years. Like William and many of you, a business that calls Maysville and the surrounding region, home.
I will first speak on Mr. Lawrence, the businessman. Even though he's been in business a short time, he's made a tremendous impact on this community and the surrounding area. Affordable housing; take a look at the May's Lick School building. Business expansion; take a look at the Merz Brothers building in downtown Maysville. Both were renovation projects that people told him simply couldn't be done; he proved them wrong. The Merz Brothers building is home to The Maysville Brewing Company. A business that is now looking to expand further. The Maysville Brewing Company along with Old Pogue has placed Maysville, on the B-Line Tour. A tour that brings thousands of tourists to our area each year.
He had a vision to provide housing for those in need and opportunities for other entrepreneurs. Mr. Lawrence wants to see the entire 70th District flourish and carries many pro-business ideas. William advocates for responsible yet small government. We know that when left unchecked, government often introduces hurdles that slow down much needed growth, while haphazardly spending tax payer dollars. Example, the Kentucky Wired Project. It's a hot topic that's become somewhat of a punchline. One thing has been historically true with government; we can't trust them with healthcare (and apparently they can't be trusted with internet either.) They continue to throw money at this project, millions in fact and all we've received are continued delays. Some things should be left to the private sector. William recognizes this, while his opponent favors more spending on failed state projects such as this one.
William also believes in tax incentives for those coming into the area. More investments in education, trade schools and technology to better equip our students and teachers. Teachers should NEVER have to pay for school supplies. Other plans that seek to lower income, property, capital gains and payroll taxes are also attractive to those looking to start or expand an existing business and puts more money into your pocket. These are all things prospective companies look for.
Far too often we educate our children and prepare them for the real world, only to have them leave and seek better opportunities elsewhere. Mr. Lawrence realizes that we need more opportunities and he's committed to seeing that through. Take a look at all the undeveloped property in this district. Acres upon acres on the AA Highway in Mason County, property on Tucker Drive in Maysville. The industrial park in Flemingsburg has sat idling for decades. These are issues that have been ignored by past representatives and William's opponent. There are opportunities for more industry in Robertson & Bracken County as well.
Many parts of the country have succumbed to stagnant wages. Unfortunately, the 70th District is no different. How many people do you know who work two, three or four jobs, often referred to as "side hustles" just to make ends meet? To make matters worse, you then have those who suggest we raise taxes while many in the working class are just barely scraping by — it's insulting. We should not be responsible for inept government or reckless spending; we've seen many examples of ineptitude and overreaching power at all levels of government since Covid-19.
Change is possible. Air, highway, rail and waterways are all easily accessible for the transportation of goods. We are within an eight hour drive of 70% of the US population but you won't hear William's opponent speak about job creation. He aligns with a party who doesn't know how to create them. "More taxes is the answer" they say. It's not the answer. We need a larger tax pool, not individual tax increases. William Lawrence recognizes this.
A vote for William Lawrence is a vote for new blood in Frankfort. New ideas and less stagnation. More industry creates more opportunities for growth. More industry creates competitive wages. With such opportunities it means that more folks can attain careers with respectable salaries that are closer to home. This affords them more time with their families and places more money into our local economy.
But don't just take my word for it. Look at the long list of endorsements from organizations and those who are already in Frankfort and Washington, willing and eager to work with William. They include US Sen. Rand Paul, Congressman Andy Barr, Congressman Thomas Massie, State Senators Steve West and Wil Schroder, along with many state Constitutional officer holders and state elected officials. He is also endorsed by The Kentucky Chamber of Commerce, Kentucky Right to Life Association, Commonwealth Policy Center, The Family Foundation and holds an NRA, A+ Rating.
That's an impressive list and so are William's accomplishments in real estate development. I would like to finish by speaking on William Lawrence, the person. William is someone we can trust as our ambassador in Frankfort. He will listen to you and he will work, for you. He's a family man, an honest man. A man of integrity. Go to any college campus and you can learn about business but integrity is not taught in the classroom. Integrity is developed at home. That's ultimately why I choose to endorse William Lee Lawrence, State Representative for the 70th District. He also doesn't waver in his beliefs to garner votes and despite all of his political endorsements, he's not a politician. William Lee Lawrence isn't in this race for personal gain. William Lee Lawrence is you, he is me and he's ready to work for you in Frankfort.
Sincerely,
Yates Crawford
Augusta
Earth911 Reader: Your Fast, Useful Sustainability, Recycling, Business and Science News | Earth 911 - Earth911.com
Posted: 17 Oct 2020 02:00 AM PDT
The Earth911 team combs news and research for interesting ideas and stories about the challenges of creating a sustainable world. We pick the science, sustainability, recycling, and business stories to give you a summary of the week's changes, along with ideas you can act on to support the environment and Earth-friendly initiatives. Sometimes it is good news we can all celebrate, sometimes it is bad news or a seemingly intractable challenge that should make us double-down on finding new solutions. We call it the Earth911 Reader and we hope you find it useful.
IN SCIENCE
Small Farms, a Key to Sustainable Agriculture, Are Ignored By Research
After COVID-19 pushes another 150 million people into extreme poverty, policies that support small farmers can play a crucial role in wiping out hunger and addressing environmental damage, Nature reports. But first, science must begin to study the potential impact of programs that address smallholder farms. Ceres2030, a global nonprofit research organization, released its proposed plan to eliminate hunger this month. It says these farmers are more likely to embrace sustainable and efficient growing sufficient food for everyone on the planet. "Ceres2030 researchers found that the overwhelming majority of studies they assessed — more than 95% — were not relevant to the needs of smallholders and their families," Nature editorial page said. We're trying to solve world hunger primarily through technical innovation without addressing the people on the ground. It's a classic disconnect exacerbated by the focus on research funding, which emphasizes private industrial agriculture priorities. It's time to turn our attention to solving myriad small farming problems, such as financing seed purchases, how to dry corn for storage or how to manage the soil, all within the framework of a global food system.
Scientists Identify Drivers of Wildfire Carbon Emissions
Nature reports that scientists have identified the sources of carbon emissions from large fires. As climate change warms the atmosphere, positive feedback from burning brush and other fuel on the forest floor contributes to more massive fires and more carbon emissions than during colder times. The forests don't need to be raked, as the President has dismissively stated. Still, we need to understand that forests' adaptability changes and new forest management techniques are required. The ground is dryer due to drought, which provides more flammable debris, including the soil itself, as fuel for fires that burn more intensely, increasing the acreage lost, another study in Nature reports. With this information, forest management can evolve. Perhaps the Federal government, which owns most of the land lost in California this year, will allocate reasonable funding to improve fire prevention. The first step toward that public investment will come with your vote on Nov. 3.
Save People's Livelihoods To Save Nature
Phys.org reports on a new study from the Stanford Natural Capital Project that found "[i]f we want to protect the critical natural assets we all depend on, we need actionable policies that incorporate people's diverse needs," according to lead researcher Lisa Mandle. Environmental policy must recognize that nature is utilized by different populations, sometimes in concert and others in conflict. By creating jobs that protect wilderness, we can offset the loss of lumber and mining jobs, for example. Our podcast interview with Dr. Kinari Webb of Health In Harmony provides a useful lesson. She realized illegal loggers in a Borneo rainforest felled irreplaceable trees to pay for primary medical care. Health In Harmony decided to provide free healthcare and purchase the loggers' chainsaws, resulting in an 88% reduction in logging and preservation of orangutang habitat. Local incomes rose by 300%. Sustainability is, ultimately, a human challenge and not just a matter of preserving wilderness.
Warming Freshwater Lakes Threaten Species
Climate change is warming lakes and other standing freshwater, driving more algae blooms, and reducing water sources available to local species, Phys.org reports. Most lakes have warmed by 0.13°C each decade since 1979, shifting climates by about 2.2 miles over the same time. Wildlife must adapt by moving to habitats fitted to their needs. As the atmosphere warms, the distance animals must travel to adapt will increase by up to 248% per decade, about 5.4 miles. Of course, aquatic life cannot pick up and move with the same ease as birds and mammals. Warming lakes will see declining fish, frog, and other amphibian life along with the rise of invasive species of plants and animals taking advantage of the new habitat conditions. While lakes are warming at about half the speed oceans are, the consequences are similarly dire.
Battery-free Plastic Electronics Breakthrough Announced
Here's a story with potentially positive and disastrously negative consequent. A team at the University of Washington in Seattle has developed a technology that allows 3D-printed plastic to communicate with a Wi-Fi network or smartphone. It does not require batteries or access to an electric plug, IEEE Spectrum reports. A laundry detergent bottle could be powered by the act of unscrewing the lid and then be able to order a replacement when it senses it is empty. On the one hand, this could automate supply-chain activity to reduce waste in the economy. However, it will also reinforce the role of plastic in consumer packaging. People will still be tossing out billions of single-use plastic items each year. They may be smart pieces of plastic, but they are still a source of pollution and adverse health outcomes. Business and their customers need to think carefully about any plastic use before flooding the market with more petroleum-based packaging.
IN SUSTAINABILITY
Here Are the 55 Most-Needed Innovations For Net-Zero by 2050
Cap Gemini, a global business consultancy, released a report that identifies 55 mission-critical technologies for achieving a net-zero economy in 30 years, Recharge News reports. The list is worth a read. As writer Leigh Collins explains, some surprising technologies are missing from the list, including nuclear power, nuclear fusion, and methane produced from captured atmospheric carbon. Cap Gemini said in its report, Fit for Net-Zero, that the list includes technology that is "ripe for financial support" while creating 12.7 million jobs in the next decade. Here are just a few of the things that stand out: Large-scale hydrogen production to produce fuel at $1.76 per kilogram between 2025 and 2030; Cost-effective and energy-efficient direct-air capture of CO2; Alternative concrete (which contributes up to 8% of global emissions annually); Reduced emissions from plastic manufacturing; "Deep renovation" of commercial buildings; Low-carbon biofuel for aviation, and; the list goes on. Worth a read, then think about your investments — how can you help and earn a return — as well as how you can change your lifestyle to lead the way to a sustainable future.
Study Suggests People Don't Want Green Tips
Georgia State University researchers surveyed 2,000 people to see how people apply simple green tips in their lives. It turns out they don't act on them, Grist reports. The methodology for selecting respondents is not detailed. Dismissing the significance of individual changes, one author quoted in the story called the idea of making personal changes "absurd." But the article goes on to say that showing more and telling less is effective. It's the kind of communication that matters, not the volume. So, what do we do about that at Earth911? We'll continue to provide information that demonstrates the value of making personal changes and reaching out to companies and government to request changes. We don't think you need to be perfect or, as the article suggests, "ecopious" to be effective change agents. Citizenship was folded into consumerism in the U.S. decades ago. We must exercise our influence financially as well as politically. We also need to avoid being critical and demanding perfection in the people we hope to change. Shaming is, as the article suggests, counter-productive when pursuing lifestyle changes. We'll try to follow the report's suggestion to "mak[e] climate action 'fun,' 'cool,' and 'sexy,'" one tip at a time.
Dairy Industry Takes Steps Toward Net Zero
The Innovation Center for U.S. Dairy, a Rosemont, Ill., an industry collaboration, announced a campaign to make dairy farms and processing carbon-neutral, Dairy Foods reports. The organization and its partner, Nestlé, will put $10 million toward deployment of the plan in the U.S. The dairy industry did its first supply chain carbon assessment in 2008, finding that it contributes about two percent to U.S. CO2 emissions annually. The plan calls for technical innovation, reduced water use, and water-pollution reductions, which damage rivers, aquifers, and oceans. While the dairy industry has reduced the amount of water required to produce a gallon of milk by 30%, land use by 21%, and CO2 emissions by 19% since 2008, there is remarkably little detail in the plan to judge whether this is a serious initiative. Also, check out Supply Chain Dive's analysis of the project.
Coal-Fired Electricity Is Dead; International Energy Agency Says "Long Live Solar"
GreenTechMedia reports that the International Energy Agency (IEA) has declared solar power the new "king" of energy sources. The IEA report also found that COVID-19 has caused more disruption to the global power infrastructure than any recent historical events, but that the consequences will not be fully understood for years. Power demand projections point to a 5% decrease during 2020, while energy-related CO2 emissions will decline by 7%. That takes the world back to emissions levels not seen since 2010, and demand will not return to pre-pandemic levels until 2023 at the earliest. Will building back green win out over building back on industrial-era energy sources such as oil and coal? Only time will tell. The IEA analysis found that 80% of the world's energy requirements will be served by renewables by 2030, with coal fading into history as the emerging economies decarbonize. The IEA found the coal power will account for less than 20% of global generation capacity by 2040 "for the first time since the Industrial Revolution." Finally, we must reinvent the grid as the world adds 80% more transmission infrastructure during the 2020s. Progress may be hampered by the financial impact of COVID on power utilities.
$2.97 Trillion In Disaster Damage Since 200, U.N. Reports
The United Nations Office for Disaster Risk Reduction (UNDRR) this week released a report, Human Cost of Disasters, An Overview of the Last 20 Years. The organization found that 6,681 climate-related disasters have occurred during the past 20 years. Storms, drought, and other extreme weather cost 995,330 lives and impacted 3.2 billion people's lives. Looking forward, the UNDRR projects that 70% of global agriculture, which is rain-fed, will be affected by changing weather. That could leave "1.3 billion people dependent on degrading agricultural land." Among the weather-related disasters, flooding accounted for 44% of disasters this century, followed by storms (28%), drought (5%), and wildfire (3%). The report also found more mega-disasters, events that kill more than 100,000 people, occurred in recent decades than previous eras. These events tend to hit poorer countries in the Equatorial region today, bringing them to the brink of financial insolvency, but the same economic risks face more of the Northern and Southern Hemisphere due to rising temperatures (see the next story). We must act to reverse climate destruction to prevent the disasters that are physically certain to happen in a warmer world.
A Fifth of the World's Economies at Risk of Climate-Related Economic Collapse
A new financial analysis from insurance company Swiss Re that suggests more than half of the world's GDP — $42 trillion — is dependent on nature's biodiversity. The "natural services" or "environmental services" provided by nature in the form of fish, game, grasslands for grazing, forest products, medical products, to name just a few, will be devastated by climate change. "If the ecosystem service decline goes on [in countries at risk], you would see then scarcities unfolding even more strongly, up to tipping points," Oliver Schelske, lead author of the research, told The Guardian. Remember, Swiss Re is an insurance company. Its statements about risk represent what it will hesitate to insure in the future. If the "10 key ecosystem services," Swiss Re calls out as at-risk are damaged, economies will collapse. The report put South Africa and Australia among the advanced economies at the top of the risk list. China, the U.S., and Great Britain also face significant natural and financial peril in the climate catastrophe era.

IN BUSINESS
2020's Climate Disasters Are Changing Business and Investors Can Profit
Triple Pundit reports on American businesses' response to the record-breaking climate disasters that have already cost the United States almost $50 billion. Storms, fires, and drought are ravaging long-term confidence in business as usual. There is a hopeful sign in the rising investment in renewable energy, which has returned twice the profits of oil investments in recent years. As more companies turn to sustainability, there will be more opportunities to invest in supporting a net-zero world. May we ask if you would be interested in a newsletter dedicated to sustainable investing? Let us know at newsletter@earth911.com.
Another Trump Bust In the Making: Oil Leases
The National Resources Defense Council reports on the dangerous expansion of oil and gas rights on public lands during the Trump Administration. The Bureau of Land Management has auctioned off drilling rights on 273,000 acres of previously protected lands during 2020 despite crashing oil demand and driller bankruptcies. Since taking office, Team Trump has leased 4 million acres of public land for drilling. And despite negative oil prices in the Spring and current prices that are a third or more below previous years, the Trump dump of public land rights continues. Like most things he touches, the President is making a failure, again. But there is a long-term threat to the environment from companies saddled with useless drilling rights. As they seek relief, rights holders could transfer the lands or ask for alternative rights to recover their money. That would open the door to environmental damage. Instead, like Mr. Trump, these rapacious speculators should be forced to own their mistakes rather than socialize their losses on taxpayers' tab. Keep an eye on public lands issues, especially if Trump is reelected.
Low-CO2 Concrete Poised For Takeoff
CarbonCure, a Canadian company, sill expand its low-CO2 concrete business, working with about 300 concrete producers to sequester CO2 in the material when poured, Grist reports. It's just one of many firms exploring how to capture, process, and store carbon in long-term sequestration materials. Microsoft recently announced a "moonshot" project to capture atmospheric CO2 for storage in deep rock formations. Projects are starting up in Norway, the American Southwest, and other locales, too. "We are at a tipping point and no one knows quite how it will tip," Klaus Lackner of Arizona State University said. Check out our interviews with carbon sequestration pioneer Peter Fiekowsky for more about this promising and essential CO2 strategy.
Meet Amazon's First Rivian-made Electric Delivery Van
Electric truck maker Rivian has introduced the first of 10,000 Amazon delivery vans the e-commerce will deploy over the next two years, Entrepreneur reports. Amazon explains that the vehicle is one of the first steps toward its Climate Pledge to achieve carbon neutrality by 2040. The pledge includes $100 million in investments in environmentally friendly solutions to operating Amazon and its distribution network, including a promise to buy 100,000 electric vehicles. Entrepreneur also reported this week that a recent survey by Bluehost, a marketing services company, found that "nearly 50%" of small businesses closed during the pandemic now believe they do not need a physical storefront. Indeed, only one-in-five has plans to reopen. Now, think back to Amazon's electric vans, which are components of an on-demand local economy that distributes food and goods with far greater efficiency than traditional distribution models. It will not surprise us if many small businesses combine their inventory with Amazon's to expand services offered to local shoppers. In a sense, the store could come to you, and it will run on renewable electricity.

IN RECYCLING
19th Century Recycling In America: Meet the Night Soil Men
Historical context always helps when faced with a new problem. The U.S. recycling system is ready for reinvention. We can learn from Altas Obscura's history of "night soil men" who collected human waste before sewers appeared in everyday life. Sewers date to Roman times, but in New York during the 1800s, "reeking loads were sometimes carted off to country farms to be used as fertilizer. But more often they were hauled through the night to a designated pier and dumped into the Hudson or East Rivers." The story of disastrous pollution and progress toward improved sanitation, which was staffed by surprisingly well-paid immigrants and people of color, may get you thinking about the challenges we face in a new light.
Plastic Recycling Innovator Loop Industries Exposed As Fraud
Plastics Today reports that Loop Industries, a Montreal-based plastic recycling company that has made extraordinary claims that it can reduce PET plastic to its component monomers for reuse is accused of fraud by investment firm Hindenburg Research. In a damning report, Hindenburg claims Loop's founders have falsified research results to grow its business relationships with major plastic users, such as Coca-Cola and Pepsico. A convicted financial swindler helped raise its funding, partners appear to be bailing out, and the company "has never generated revenue." Hindenburg's report concludes: "We expect Loop will never generate any meaningful revenue. With a market cap of $515 million, we see 100% downside to Loop once it burns through its $48 million in balance sheet cash." Loop Industry's stock collapsed after the report went public. The controversy is a blow to recycling because it will raise more concerns about recycling claims, not to mention it is a complete waste of at least $48 million. The potential positive outcome will be a reassessment of plastic as a packaging material, which could help turn soda, seltzer, water, and food packaging companies to other packaging options.
Chemical Plastic Recycling May Be At Its Peak
Chemical & Engineering News reports that the chemical recycling of plastic is attracting massive investments because mechanically recycled plastics cannot meet safety standards for most food and medical applications. Chemical recycling, which breaks plastic down into its base monomers, produces cleaner feedstock for manufacturers. But, as the Loop Industries report (see immediately above) makes clear, there may be more smoke and mirrors to this industry than substance. As writer Alexander H. Tullo points out, Greenpeace recently called chemical recycling a "fantasy," which may become a fraud if reports about Loop Industries are fully confirmed. Because plastic's main ingredient, petroleum, is selling at historically low prices. It may be many years before chemically recycled plastic can be price-competitive with virgin plastic. Environmentalists point out that the processing may take more energy and emit more pollution than companies admit. What can you do? Buy less plastic.
Label Products Based On Recycled Content, With Warnings About Environmental Harm
Kate Bailey, Policy & Research Director at Eco-Cycle, writes in Waste360 that it is time for new product labeling that exposes the harm caused by virgin materials, such as plastic: "This plastic packaging is made from fossil fuels and is known to contribute to climate change and health issues such as impairment of the nervous system, reproductive and developmental problems, cancer, leukemia, and more. Less than 10% of plastic has been recycled worldwide." Encouraging more use of recycled materials is essential to making improved recycling viable — companies buy recycled feedstock. They will do that if customers demand a circular product that never lands in the dump. That translates into reuse, which moves society toward a circular economy that relies on minimal raw, or first-use, materials. Another idea, we suggest, is a simple circle with a green slice to represent the percentage of recycled material in the product and packaging and the remainder displayed in red to indicate the amount of environment-damaging virgin material used in the product or packaging. As a product increased its use of recycled material, the green slice would increase in size, providing consumers ongoing insight into whether they are supporting sustainable behavior. For example, the typical aluminum can contains 73% recycled metal, which would fill almost three-quarters of the circle with green. A round label reinforces the idea of the circular economy and illustrates the progress made toward circularity.
ACTIONS YOU CAN TAKE
Watch Countdown, a TED Zero-Carbon Event
TED (for Technology, Entertainment, and Design) pioneered thoughtful presentations from leading innovators and policymakers to address challenging social, philosophical, business, and political issues. Its new Countdown programming includes more than 50 speakers who will introduce you to a wide range of climate issues, ideas, and opportunities to change. The site also provides ways to host a climate conversation for friends or a community, get involved in climate education projects, and reduce your carbon footprint. It's a month's worth of listening that you can enjoy and study at your own pace.
Help Raise $10 Billion a Year for Climate Mitigation
The Global Returns Project, a London-based nonprofit, makes a radical proposal: if you contribute 0.25% of your annual savings and investments, they can deliver $10 billion a year to climate recovery, climate change mitigation, and other novel projects to reverse global warming. Called, Reinvest in Earth, the program lets contributors select individual projects to support or spread their donations across all current projects. Among the current projects are the Ashden Awards Scheme that creates incentives for energy innovation, ClientEarth, an environmental law program that provides legal services in defense of nature, and; several tree-planting and forest preservation projects, a Trillion Trees, Global Canopy, and Rainforest Trust U.K. There's a lot to learn and many opportunities to put your money to work for the environment.
Stand Up for the Right to Repair
Before you reuse something, you may want to repair it and continue using it for its original purpose. But many consumer electronics, home appliances, and even automakers now threaten to revoke their warranty because of a DIY repair. Repair.org, an association of individuals, nonprofits, and companies advocates in Washington, D.C., and state legislatures in support of right-to-repair legislation and offers educational information about DIY repair issues and environmental impacts. "A free, independent market for repair and reuse is more efficient, more competitive, and better for consumers" by increasing our options when a device breaks. You'll find actions you can support and information you can use to spread the right-to-repair message yourself. Oregon senator Ron Wyden (D) recently introduced a narrowly-scoped bill in the Senate to allow repairs to medical equipment during the pandemic. We would point out to the Senator that there is a crisis of planned obsolescence, too. Repair and reuse are much better for the planet than the perpetual upgrading of devices that the owner cannot fix.
Learn To Garden More Sustainably
IKEA is launching an interesting experiment, the IKEA Virtual Greenhouse, a week-long series of online courses that begins today. Part of the Swedish retailers' Life At Home project that documents and shares stories about changing lifestyles with customers worldwide to encourage better living, the Virtual Greenhouse will include sessions on food waste, home rituals, creating a sanctuary, selecting bee-friendly plants in the garden, and flowers as therapy. New courses will be introduced each day until Oct. 25.