Colorado Springs businesses credit PPP for survival | Business - Colorado Springs Gazette
---
Colorado Springs businesses credit PPP for survival | Business - Colorado Springs Gazette
Posted: 16 Oct 2020 12:10 PM PDT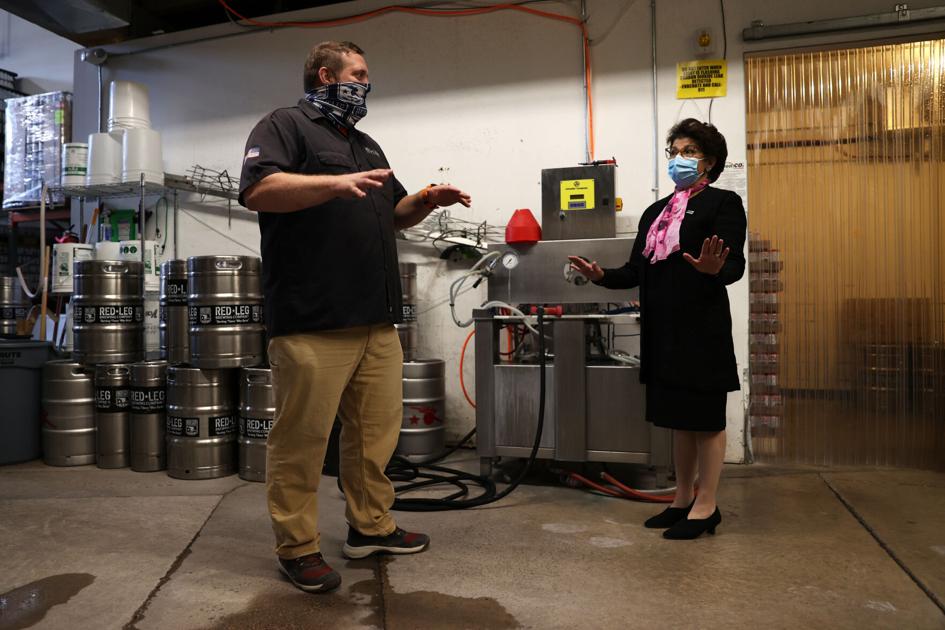 Red Leg Brewery had only enough money left to make payroll for four months when state restrictions to slow the spread of the COVID-19 pandemic forced the brewery to close in late March.
Todd Baldwin, Red Leg's founder and president, told his 16 employees he planned to keep them all on the payroll until the money ran out and forced the brewery to file for bankruptcy. But that day never arrived. The north-side brewery received $87,000 from the U.S. Small Business Administration's Paycheck Protection Program, created by legislation in March to help small businesses keep employees.
"The Paycheck Protection Program helped us survive as a business. We were one of many businesses that were told we couldn't do business (during the pandemic)," Baldwin said. "We kept everybody on our payroll (16 people) and gave them a raise to $15 an hour through August since we had cut their hours. I told our employees we had eight payrolls left we could make and then we would go bankrupt, but the PPP loan came a few days later."
Red Leg was one of five Colorado businesses and nonprofits SBA Administrator Jovita Carranza visited Friday to learn more about how businesses used PPP loans, which can be forgiven if 60% of the money is used for payroll. She also was "assessing the business climate" and seeking ideas on where to focus a possible additional round of PPP funding that could be included in pandemic relief legislation under negotiation between the Trump administration and Democratic leaders in Congress.
Red Leg has not only survived, but will move late this year into a $8.5 million brewing, dining and entertainment complex under construction at 2323 Garden of the Gods Road. The 2.5-acre complex, financed with a loan guaranteed by the SBA, could accommodate up to 2,500 customers, although Baldwin remains worried Red Leg will be able to use only a fraction of COVID-19 restrictions.
The new complex is a major expansion from the brewery's location in a warehouse district at 4630 Forge Road, which Baldwin financed by borrowing up to $300,000 on 18 credit cards to start the business. A 28-year-old entrepreneur with no experience in the beer industry, Baldwin said he had been turned down by 30 local banks for loans, so he and his wife used multiple cards in 2012 to finance the business and paid down the balances within two years.
"Many businesses are saying if there was another round of PPP, they could continue growing their businesses. Some businesses, such as restaurants and entertainment businesses are still hurting and could use more help," Carranza said.
"We have focused on the underserved market and smallest of the small businesses, and I am here to learn and apply what I learn" to shape future rounds of PPP loans.
Stephanie Richard received three types of help from the SBA to help Sparkles and Lace Boutique, a business she owns with Lisa Raulie, hire back its seven employees and survive being closed in the early months of the pandemic. The women's clothing store, which is expanding into men's clothing, received $19,000 in a PPP loan, a $7,000 grant and $6,600 in deferred payments on its SBA loan to bring back employees and pay rent on its building at 2140 Garden of the Gods Road.
"We would not have been able to make it with this help. We went more online while we were closed during the stay-at-home order and were really busy after we reopened but it slowed down afterwards," Richard said. The business had received the SBA loan a year ago to finance an expansion and would have struggled to make payments on the loan while closed, so the deferred payments helped Sparkles and Lace survive, she said.
The U.S. Olympic and Paralympic Museum in downtown Colorado Springs also received a $100,000 PPP loan to keep paying its staff and prepare for its July opening, said Christopher Liedel, the museum's CEO. The loan financed payroll for about 10 employees, which he said was "huge" in completing construction and keeping opening plans on track, such as making adjustments to meet pandemic-related requirements, he said.
Thanks to the Covid bailout, the stories of small business fraud keep rolling in - The Guardian
Posted: 24 Sep 2020 12:00 AM PDT
Maybe it's just a dark side of my nature, but I love stories of financial fraud. What makes these people do it? How can they sleep at night? And these are heady times for fans of small business fraud stories.
Thanks to the Paycheck Protection Program (PPP) coronavirus bailout and a slew of investigations made public recently by the justice department, the stories of fraud continue to roll in.
Take Joshua Bellamy. The 31-year-old wide receiver – well, former wide receiver – for the New York Jets has been charged with obtaining millions in PPP loans by submitting false documentation and then spending the money on things like jewelry, expensive clothes and about $63,000 on what must have been one hell of a weekend at the Seminole Hard Rock Hotel and Casino in Florida.
Speaking of Florida, where so many of these things seem to happen, there's the roofer who applied for and received PPP money, and then rather than using it for payroll instead allegedly took $689,417 of it and bought a 40ft boat.
One Virginia business owner and his wife got a little more complicated. They allegedly formed four shell companies and over a three-week period applied for 18 PPP loans amounting to more than $6.6m under the pretense that the money would be used for payroll commitments that didn't exist. They actually got $1.4m of the money and promptly tried to flee to Poland where they were caught at the airport.
Then there were the bankers – yes, big surprise, I know – at JP Morgan Chase who I guess saw all that government cash flowing to those small business owners and apparently decided – because they don't make enough themselves – that the money would be much better off in their pockets rather than being used for silly things like employing people or paying rent. So they made false applications for Economic Injury Disaster Loans and deposited the funds in their personal accounts. Until, of course, internal auditors noticed the transactions and notified management who fired the culprits.
Want a few more?
There's the young (22 years old) entrepreneur in Texas named Lola who applied for PPP money to cover the costs of "several employees and large payroll expenses" but in the end had neither. There were two men in Spartanburg, South Carolina, who were caught allegedly "laundering" more than $390,000 of PPP money through casinos and a heroin and meth ring and there I was thinking Walter White was dead. There's the Seattle doctor who had a criminal history and allegedly sought millions in PPP loans for businesses with no actual operations by submitting applications with made up numbers and fake documentation. And the marketing guy in San Diego whose latest and most brilliant campaign was to create fake employees and pitch the government for money except that idea, like most marketing ideas, turned out to be not-so-brilliant.
My favorite is a guy named David Hines who got $4m in loans and used it to buy a Lamborghini, jewelry, clothes, nights at the Fontainebleau Hotel and thousands of dollars on "dating" websites.
There can not be any doubt that there are many others out there that we don't know about, happily living their lives in Poland or elsewhere because they figured out how to steal taxpayer money and get away with it.
As I wrote previously, the stimulus process was flawed because it had to be: money needed to quickly get in the hands of small business owners who truly needed it and we all knew there were gaps in the process. It's important that the government investigate, if only just to show that they're paying attention. They'll never catch all the crooks. But as Congress discusses the next round of PPP let's hope all these Netflix-worthy stories don't give too many other people ideas.