Behind the armor: Men seek 'purpose' in protecting property despite charges of racism - The Washington Post
---
Behind the armor: Men seek 'purpose' in protecting property despite charges of racism - The Washington Post
Posted: 05 Oct 2020 04:45 AM PDT
More than 100 protesters — some wearing all black and carrying pistols — marched up to the approximately 20 people who had gathered on the evening of Sept. 24 awaiting instructions from the Oath Keepers, a heavily armed civilian group that has guarded private businesses during racial justice demonstrations this year.
The man leading the protesters, Chris Will, 34, criticized the people in fatigues for showing up to defend property but not the life of the 26-year-old Black woman who was killed by Louisville police in her apartment in March.
"Why didn't every single one of you motherf---ers put this s--- on to come help Breonna Taylor when they killed her?" Will asked the armed men, pointing at their body armor.
Oath Keepers leaders urged members not to respond; escalating tensions with demonstrators would only feed public perception that they were the problem, not the solution.
Oath Keepers is one of numerous vigilante groups that have flocked to cities where police killings and protests have sometimes been followed by property damage and violence. Its members travel from across the country equipped with long guns and protective gear to stand in plain view of demonstrators or loom over them from the edges of rooftops, unauthorized — and frequently unquestioned — by law enforcement.
Founder Stewart Rhodes refuses to say how many members he has accrued since the group was founded in 2009, but experts say it is among the largest of the armed civilian groups that have grown in popularity with the proliferation of social justice demonstrations.
The presence of armed civilian groups, many organized on Facebook, has brought street brawls and deadly shootings to a handful of protest scenes. Most notably, in August, a 17-year-old traveled to Kenosha, Wis., to guard businesses during unrest there and allegedly shot three men, two fatally. He has been charged with homicide.
The Oath Keepers Twitter account lauded the teen as "a Hero, a Patriot." Meanwhile, Rhodes has called Black Lives Matter protesters "well-funded Marxist and racist agitators" and regularly warns of a coming civil war. Both Rhodes's and the organization's Twitter accounts were suspended in September after predicting "open warfare" with protesters on election night.
The Southern Poverty Law Center describes Oath Keepers as a far-right extremist group with a radical anti-government ideology rooted in dangerous conspiracy theories. Social media accounts associated with the group traffic in debunked ideas related to QAnon, the novel coronavirus and vaccines.
But Rhodes, a former paratrooper, has rejected those labels. The group's website describes itself as a nonpartisan collection of former military and law enforcement officers who have pledged to "defend the Constitution against all enemies, foreign and domestic."
"We feel a duty to protect people's rights," said Rhodes, 55. "We respect the rights of the protesters, but they don't have a right to terrorize other people, assault them or burn their property to the ground."
Rhodes, who wears a black eye patch over his left eye — the result of a bullet wound he says was an accident but declined to detail — issued a "call to action" in Louisville last month, appealing for volunteers with backgrounds in emergency medical services, firefighting, combat and other skills. Dozens of followers from around the United States showed up.
Some said they were not concerned with Rhodes's political stances, and some appeared unfamiliar with his history of extreme remarks.
Instead, they talked about finding a sense of purpose and fellowship in a group whose stated mission reflects the one that guided their military service.
Former Army sergeant Kenny Harrelson, who traveled from Florida to answer Rhodes's call, joined the Oath Keepers in 2017. He spent five years in the service but wasn't deployed after injuring his back and shoulder in training accidents.
"You do spend the rest of your life looking for that camaraderie," Harrelson said of his military experience. "When I found Oath Keepers, I fell headfirst in it, helping train the civilians in the group. Makes me feel like I'm back in it."
John Temple, a West Virginia University professor who studies the so-called "patriot" movement, called Oath Keepers the "most PR-savvy" of the groups that have surged in popularity since President Barack Obama's election in 2008.
In the 1990s, self-styled militias that touted overtly racist messaging pivoted to anti-government stances, he said. They rallied around notions that the federal government was going to confiscate citizens' guns and abandon rural families, a fear that proliferated under Obama.
But under President Trump, those concerns have waned, and the groups have pivoted again.
"They've turned toward other political motivations, and a lot of it has to do with race, if you just look at what they're showing up at," Temple said, referring to social justice protests. "But they know if they have an overtly racist message, that's not going to help the cause."
Oath Keepers has become one of the largest of these groups, experts say, in part by actively rejecting labels such as "militia," "far-right" and "racist," and crafting a message that resonates with highly trained and mission-oriented people.
"There's a sense of purpose there," Temple said. "I've encountered guys who serve with distinction in combat and get home and never figure things out as civilians. And then they find these groups and it becomes their new mission, and there's this feeling they're serving a greater purpose."
Beneath the bulletproof helmets surrounding the gas station last month was a hodgepodge of ideas about what Oath Keepers is and isn't.
The group was Trump-leaning, to be sure, with a handful of exceptions. Members are largely White. Some believe the people protesting police brutality have a legitimate concern but see the small-business owners victimized by rioting and looting as innocent bystanders more deserving of their support. Others echo false conspiracy theories that the Black Lives Matter movement is a farce, the protesters are paid, and billionaire George Soros is pulling the strings.
Several declined interviews with The Washington Post.
One 29-year-old member joined after a three-year stint in the Army ended in 2013, leading him to move back into his parents' home. He used the G.I. Bill to attend Sullivan University's College of Technology and Design in Louisville but hasn't discovered his calling. After working odd jobs for a while, he hasn't landed on a career.
"Honestly, I've been kind of struggling," said Andrew, who declined to share his last name for fear of being doxed, or having his personal information shared online, by left-wing activists. "The Army gave me a sense of purpose, like I was doing something good. What's worth doing now? … That's kind of what brought me here. I finally feel like guarding this Shell station is something I can do to help. Preserving our way of life is worthwhile."
After the confrontation with protesters in the hotel parking lot, Rhodes asked one of Oath Keepers' few Black members, an Army veteran and former Indianapolis police officer named Mike, to speak to the news media. Mike, who goes by "Whip" but refused to give his last name for fear that his private security employer would reprimand him, joined the group several years ago and was leading the field operation in Louisville. A reporter asked him if he believed there was racism in America.
"I said, 'Yeah, there's racism in America,' " Mike, 36, later recounted with a chuckle. "There's racism wherever there are Black people, all over the world."
But the Oath Keepers get a bad rap, he said, insisting the racists who were once in its ranks have been kicked out.
"When I first ran into some Oath Keepers, they were good ol' boys, the definition of prejudiced people. And I thought they were a racist group, so I didn't really mess with them," Mike said. But he said he's since been attracted to the group's food drives, disaster relief missions and efforts to protect businesses and people.
"Reputation is everything in this new, sensitive America, and a lot of times perception is reality," he said. "The reputation of militias is a bunch of racist White guys. Some of them are but not all of them."
Oath Keepers works with a variety of groups. In Louisville, members connected with the Kentucky Mountain Rangers, another armed group in the mold of the Oath Keepers, who helped guard the gas station.
David Dohn, 57, recently joined the Kentucky group after retiring in 1998 from a 19-year career in the Special Forces. Both he and his teenage son carried AR-15s and wore desert camo tactical gear as they patrolled the Shell.
"In the Army, you can't be racist or ignorant. Everybody's green. I don't judge anybody. I don't care what color you are — purple, White, Black," Dohn said. "I made it perfectly clear I will not associate, train with racists. I ain't got time for that. I'm not bringing my children around that."
Dohn explained he owned a commercial paint company in Kentucky and that one of his longtime employees, who joined the Mountain Rangers alongside him, has two Palestinian parents.
"I always joke with him, I probably killed some of your cousins," Dohn said before introducing his employee using an ethnic slur. "I call him a 'camel jockey' to mess with him a little bit, but whatever. I don't care about his race: We're family."
The man, Jack Shunnarah, of Hodgenville, Ky., laughed awkwardly as other men resting against the wall of the gas station repeated the pejorative.
"Somebody needs to make a stand," Shunnarah said of his motivation to join the group. "We need to take Louisville back. We're not here to start no s---. But if we see somebody getting hurt, we're going to protect them. All this 'Black Lives Matter' mess . . . it's all lives matter."
Oath Keepers is selective about who it associates with, Mike said. He turned down an offer for assistance from the Proud Boys — the extreme-right group Trump referenced in last week's debate, telling them to "stand down and stand by" — expressing contempt for a group that has gained a reputation for virulent racism and violent confrontations with demonstrators in numerous American cities.
Unbeknown to Mike, a former Proud Boys member stood nearby with an AR-15 as they protected the gas station. The 40-year-old White man — who would only give his nickname, Stitch, out of fear of being doxed — said he had attended more than a dozen protests with the Proud Boys before recently leaving the organization for reasons he declined to share.
He described the Oath Keepers' encounter with protesters in the parking lot as evidence that the "civil discourse is completely and utterly broken down in this country."
"This," the man said, lifting his rifle, "is the only thing keeping these people from taking us over completely and having the CCP right here in America," referring to the Chinese Communist Party.
Rhodes said the Oath Keepers were given written consent from business owners to protect a handful of buildings in Louisville throughout the week, including two pawnshops, a day care, the gas station and a private residence.
The gas station had been the subject of vandalism in recent weeks, and Rhodes said the owner believed demonstrators targeted her store because a White employee had shot a Black man with a rifle there last month after the man threw items at him. The store owner declined an interview with The Post.
In the following days, Rhodes said, the owner was made aware of threats against the store, and someone tagged the entrance with graffiti. Oath Keepers, making rounds of vandalized properties near downtown, offered help and she accepted, he said.
As Rhodes and Mike made their rounds in an SUV one evening last week, the pair received two urgent messages back to back; first, a vehicle carrying two Black men pulled up to the gas station screaming insults, and men from another armed group from Kentucky verbally sparred with them.
That's a "no-go!" Rhodes yelled into his cellphone, discouraging any form of escalation with members of the public.
A moment later, Mike said he received a message from one of his sources on the ground that two officers had been shot during protests downtown, a fact that wouldn't be publicly confirmed by Louisville police for another 10 minutes.
"They're going to be trigger-f---ing-happy," Rhodes said of the Louisville police. "We've got to tell our guys to have their hands clear and their weapons in sight when the cops are around."
Mike said he has relationships within Louisville law enforcement, and Rhodes maintains that members of Oath Keepers are vetted, their credentials verified, and their abilities and competence highly scrutinized.
But the Sept. 24 confrontation in the parking lot showed cracks in the screening process. Protesters lambasted a young man holding an AR-15 rifle who was visibly trembling during the interaction. Another man with Oath Keepers had his finger on the trigger of his rifle, violating a key gun safety principle and earning a lecture from fellow group members.
Concerns about vetting will follow the Oath Keepers as they attempt to involve themselves in other social justice protests that make national news.
In 2016, Rhodes promised to "hunt down" voter fraud and voter intimidation, particularly "by leftists." In Tuesday night's debate, Trump called on his supporters to do much the same this November.
Rhodes believes the risk this time around is greater, fearing the "Marxists" are planning violence. He hasn't specified Oath Keepers' plans for poll-watching, but he said the group will be involved on Election Day.
"We'll be ready," he said.
'This is a moment for huge, radical thinking': Guy Raz on entrepreneurship and economic growth - Technical.ly
Posted: 01 Oct 2020 08:21 PM PDT
In a crisis, it can be tough to see the bigger picture. But look back at how it started or forward at how it might play out, and it's likely there's a longer arc at play.
Take entrepreneurship. Plenty of founders face moments where they're ready to quit, or on the brink of insolvency. Yet they're guided, said Guy Raz, by an "unshakable view" that their product was solving a problem that many have, in a way that no one else can solve it. That sense of a longer game can be a guide.
"If you really fundamentally believe that the world needs it, then it's not time to quit," Raz said during a Sept. 25 keynote at the Introduced by Technical.ly conference.
The author of the recently published book "How I Built This" and host of the widely followed NPR podcast of the same name, Raz has interviewed hundreds of entrepreneurs and charted their paths. (He's also gone through 100 sharpies signing 16,000 books).
For Raz, story is central to learning. Taking a central insight from a business class that lessons on building and running companies are told through stories akin to the hero's journey, Raz launched "How I Built This" in its podcast form in 2016. Charting the paths of some of the world's biggest companies through longform audio interviews and now a book, he's only grown more assured that even the most actionable advice of business literature is hard won.
"There are no shortcuts to starting a business, or introducing an idea out into the world or a disruptive concept inside your own company," Raz told Technical.ly CEO Christopher Wink. "The only shortcut is to learn from people who made mistakes before you so you know how to avoid them."
Often, it's the moments when entrepreneurs are tested that end up not only summoning the will to go on, but the key insights that can propel them forward.
Raz sees this on a wide scale during the current pandemic and economic downturn. Like many recessions, this time is delivering a huge blow. Many businesses are struggling in a way that no one would wish. Yet the fight to keep going could have the unexpected outcome of showing a new path.
An entrepreneur must ask herself if their business idea is only solving a problem for themselves, or for the many, says @guyraz. Many are guided by "an unshakable view" that the world needs the solution, and they're the ones to do it. #Intro20

— Technical.ly (@Technical_ly) September 25, 2020
Raz is seeing companies take new paths to approaching the market that may prove set up the future. It can also change how things are done internally. He offered an example from an interview with Zumba founder Alberto Perlman, in which the dance fitness brand spun up a new video platform for instructors in six weeks. Normally, he said, it would've taken two years, but it has unlocked a new way of doing business.
"Right now is a moment for every small business, any business, to think radically about every possible thing you could do not only to save your business but to prepare you for when we come out of this moment so that you actually have an advantage because you have laid the groundwork for the next phase of your business," Raz said.
For businesses, now is a moment to think radically about not only how to survive, but also to prepare for the next phase, says @guyraz #Intro20

— Technical.ly (@Technical_ly) September 25, 2020
But again, there's a wider narrative at play. Entrepreneurship has in fact been declining since the 1970s — which Raz attributes to an employer-based health system that makes leaving a business riskier. Where this year fits in is yet to be known, but Raz has a hunch that the overlapping, health, economic, racial justice and political crises will inspire some bigger thinking from the country's smartest minds to tackle "moonshot" ideas that solve world-changing problems. As an example, he offered Pat Brown ended up leaving Stanford to start Impossible Foods. The engineer saw plant-based meat a means to solve climate change.
"This is a moment for huge, radical thinking," he said. "I believe we have no choice but to hope and to believe this is a moment that will inspire that. It has to."
Entrepreneurship in America has been declining over decades. Economic crises can lead to radically rethinking how we extend opportunities to build and grow, whether on their own or in a bigger company, says @guyraz

— Technical.ly (@Technical_ly) September 25, 2020
The reckoning over racial justice that came to a head with the summer's protests following a series of police killings of Black people, but is on an even longer arc that is timed with the history of this country. It's a generational challenge that is linked to the country's entire history, and Raz reminds that solving it will be a "marathon."
"There is a growing and really inspiring movement of Black entrepreneurs in the tech world, in the consumer packaged good world," he said, "in every sector."
Raz said he takes very seriously the idea of amplifying Black voices and women, which make up half of the guests on "How I Built This."
"We know that people come to us for inspiration, and if there's a 20-year-old, or even a 40-year-old listening to our and can hear themselves in the person I'm talking to that can feel empowered to go and do that themselves, then I'm done."
As consumers we are much worse off if every product, business or service is being produced by white men…Diversity is better for everybody, says @guyraz.

— Technical.ly (@Technical_ly) September 25, 2020
It's also a time when companies are standing up against racism. It comes amid a wider move as companies move toward social, employee and environmental returns alongside profits. With the summer's events, there's more impetus to take action in a lasting way. Will the energy continue?
"I think that the employees in many of these organizations are demanding it or are expecting it, and that's probably ultimately what's going to matter," Raz said.
-30-
What Voters Heard at the Vice Presidential Debate - Spectrum News 1
Posted: 08 Oct 2020 05:26 AM PDT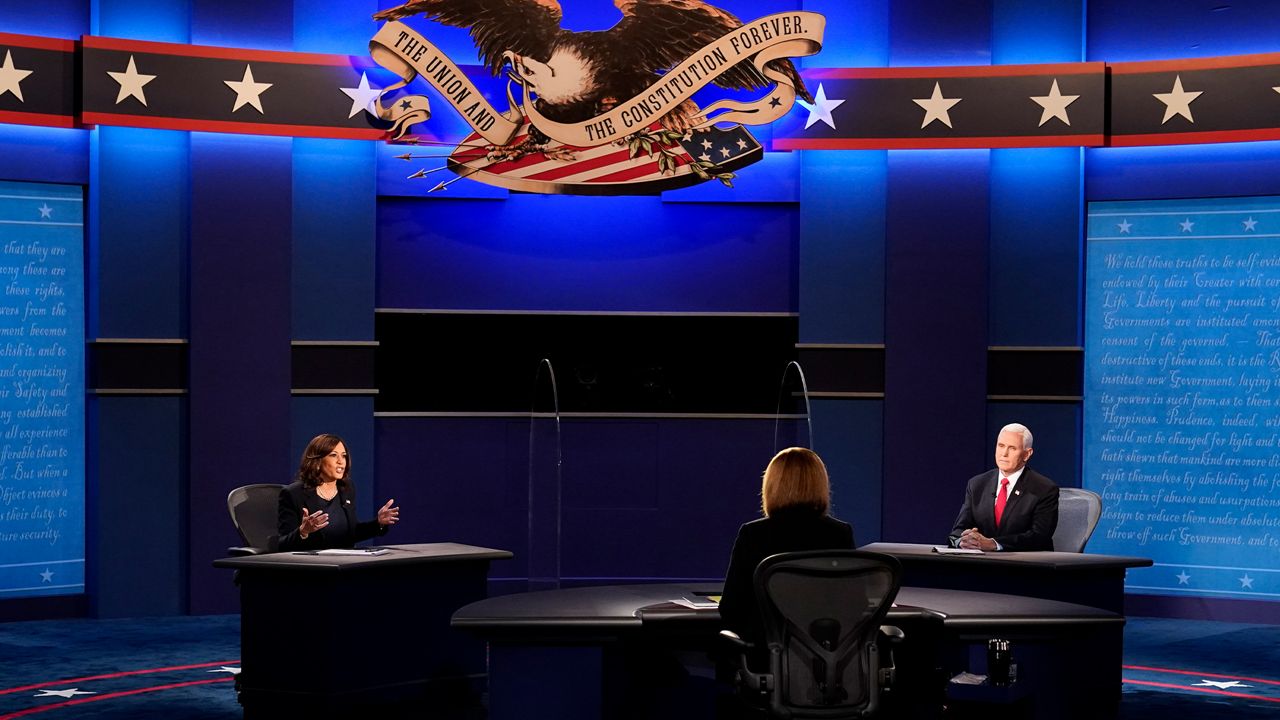 With the tone relatively tame on the Vice Presidential debate stage, the issues came through louder and clearer -- and so did the candidates' contradictions. Their goals were to defend their running mates' records, while also laying the predicate for Presidential aspirations of their own, leaving voters to parse practically inverse perceptions of 2020's intertwined emergencies -- from the pandemic, to race and policing, and beyond. 
The simple question: Which impression of reality would voters see?
Given that just over 3 percent of the electorate is undecided per a recent CNN estimate, the debate was likely an exercise in preexisting-bias confirmation for most who watched it. And still, there is value in hearing directly from voters, who are the engine of this democracy and whose real-time interpretation of debate-stage rhetoric is revealing. 
To that end, after the debate, I had a conversation with a panel of women voters from across the ideological spectrum. You can watch some key moments in the video above, but here are some key takeaways.
Ultimately, This Debate Did Not Change Ideas About This Pandemic, Nor the Trajectory of This Race
In fairness, Vice Presidential debates rarely (if ever) do. The voters who came in thinking Pence has done a great job as coronavirus task force leader, left thinking the same; the voters who came in saying Pence "got an F" for that job, gave him an F on the night, too.
Pence brought a measured tone to an unerringly Trumpist set of talking points and assertions, offering a gentler version of Trump's rhetoric, while Harris brought a slightly snappier take on Biden's key arguments in turn. With no one candidate delivering an objective knock-out blow, and both coming in prepared with talking points and professional demeanors, the net effect was a sort of a draw. 
Both Sides Accuse the Other of "Playing the Race Card"
VP Pence and Senator Harris sparred over the existence of implicit bias in policing, with Pence saying he trusts the justice system and Harris calling for a level of reform, and our voters saw the exchange in very differing ways, depending on their party affiliation. 
"Exactly as I predicted, we want to continue to prey upon the emotions of the American people by inciting the division, by saying the leader of our country is racist, when he is the one who has done more prison reform than any previous president," offered Renita Duncan, a Black Trump supporter from West L.A. Duncan's basic premise -- that it is Democrats who "play the race card" to emotionalize the minority electorate without offering tangible plans for empowering them --  ran in stark contrast to another of our Black voters, Dr. Mimi Nartey, who argued that, not only is implicit bias real, but antithetical to capitalism. 
"I don't think that many people understand the theoretical underpinnings of a capitalist democracy. There is no way to reconcile Adam Smith's invisible hand with systemic bias, with racism, with xenophobia, with any sort of prejudice," Nartey said, on a theory that categorically inhibiting subgroups of society's ability to participate in free-market capitalism throttles full-fledged prosperity.
Our Women Agreed the Economic Recovery From This Pandemic Is Disproportionately Leaving Women Behind, But Disagreed on the Best Way Forward
The stats on this are clear: Per the most recent jobs report, women are leaving the work force at four-times the rate of men, while women are disproportionately more likely to work in the service sectors most impacted by the ongoing effects of this pandemic. This threatens the gains women have made in employment rates over the past few decades, making tonight's conversation about the economy especially high stakes.
Coming into the evening, our Democratic voters wanted to hear more about plans and policy (though they felt sure the Biden/Harris ticket was the superior choice), while our retired Republican voters felt Trump/Pence's strong suit was a booming stock market, and therefore, a strong 401K. And while Pence and Harris locked horns on tax plans, our voters were still litigating Trump's economic strategy from pre-pandemic times. 
"Before the pandemic hit, we had a booming economy, and everyone was benefiting from the Trump economy," said Trump voter Rachel Gunther, a retiree who watches the stock market closely. On the other hand, voter Kerry Mellin, a small business owner, said Trump's economic policy -- including a tariff war with China which has hurt her bottom line -- "The tariffs are very steep and have changed our structure dramatically. He says China is paying for these tariffs, but we are, as small business owners."
And so while the disagreements were many on Wednesday night, at least our democracy felt healthy, if only for our voters' ability to share diverse viewpoints, in civil discourse.