First Merchants makes big moves after lending-bias settlements - Indianapolis Business Journal
---
First Merchants makes big moves after lending-bias settlements - Indianapolis Business Journal
Posted: 25 Sep 2020 11:00 AM PDT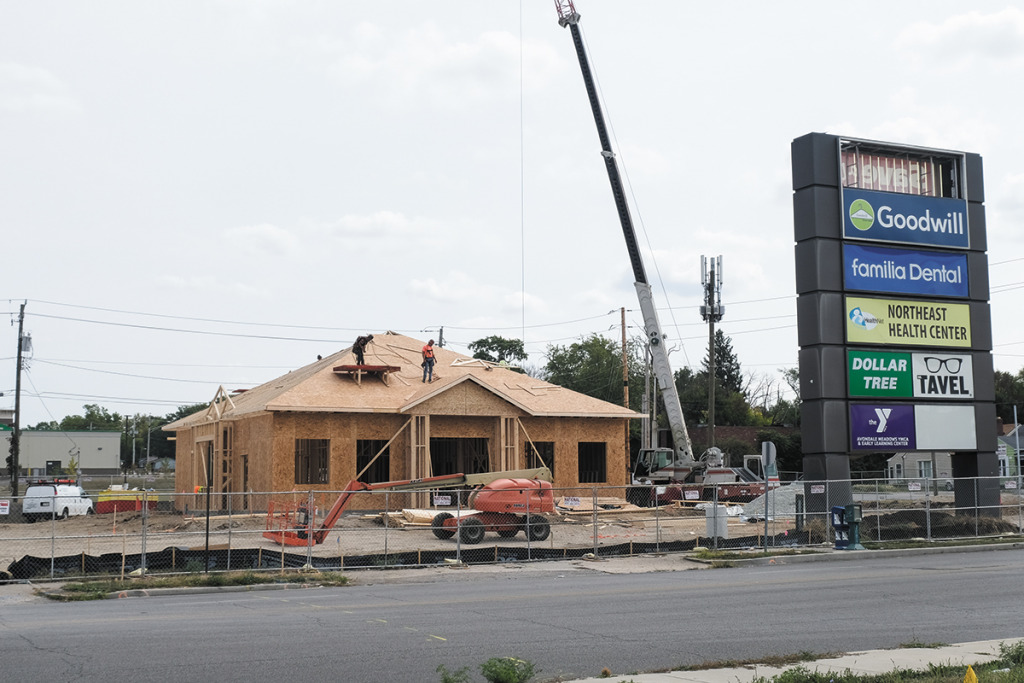 First Merchants Bank has begun constructing a $2 million branch that's expected to open in the mostly Black Avondale Meadows neighborhood in late November—the most visible sign yet of sweeping changes at the Muncie-based financial institution after it settled redlining investigations last year.
The bank in the summer of 2019 pledged to invest millions to resolve inquiries by the U.S. Justice Department and Fair Housing Center of Central Indiana.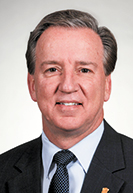 In reaching the settlements, First Merchants disputed allegations that it violated the Fair Housing Act and Equal Credit Opportunity Act by redlining majority-Black Indianapolis census tracts.
"But I can tell you what we did do—we learned. It was clear to us that we could do better, and we needed to do better," said Mike Rechin, First Merchants' CEO. "We are doing better."
Construction began last month on the branch, which is at East 38th Street and Meadows Drive—an area that has been without a banking office since a Chase location closed about three years ago.
Rechin said it was one of about four sites First Merchants considered, fulfilling settlement terms stipulating that it open a branch in a majority-Black Indianapolis census tract. He said he liked the site in part because a YMCA that opened in 2013 has given the neighborhood momentum.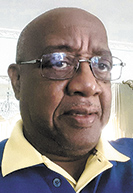 William "Duke" Oliver, a City-County Council member whose district includes the branch site, said he hopes to become its first depositor.
"The banking services that have been located there had pulled out over the years and kind of created a desert there," Oliver said.
First Merchants' negotiated separate settlements with the Justice Department and the not-for-profit Fair Housing Center, both of which were announced on June 13, 2019. One or both pacts stipulate that the bank:
◗ Open a loan-production office in Marion County, which it did at Pan Am Plaza in August.
◗ Provide $1.12 million in subsidies over four years to cover down payments and closing costs for mortgage originations in majority-Black census tracts. The money is expected to result in $20 million to $30 million in mortgage originations. First Merchants has divvied out one-third of the $1.12 million so far.
◗ Originate $4 million in loans for development of multifamily housing in majority-Black census tracts. Rechin said the bank is moving ahead with one project and plans others.
◗ Provide a total of $500,000 in grants to the Mapleton-Fall Creek Development Corp., Renew Indianapolis and Near East Area Renewal.
◗ Contribute $550,000 to the Fair Housing Center of Indianapolis and provide an additional $150,000 to the organization for a program addressing lending discrimination in the financial services industry and increasing the number of qualified loan applications from Blacks.
◗ Spend at least $150,000 on a targeted advertising and outreach campaign.
◗ Appoint a community lending and development director, which it did with the hiring of Jadira Hoptry last month. She came from Fifth Third Bank, where she'd held a similar position for nearly a decade.
Rechin said First Merchants has been developing partnerships with community leaders who understand neighborhoods' needs. He said the bank was thin on such relationships after expanding into the Indianapolis market by acquiring Plainfield-based Lincoln Bank in 2009, Noblesville-based Community Bank in 2014 and New Castle-based Ameriana Bank in 2016.
The Fair Housing Center began investigating First Merchants in 2016, amassing information that it had done little lending in Black neighborhoods and to Black homebuyers. It shared its concerns with the bank two years later.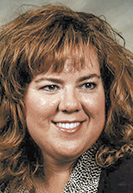 "We were pleased First Merchants stepped up and did enter negotiations with us to try to address the issues we had uncovered," said Amy Nelson, the center's executive director.
Meanwhile, the Justice Department separately launched an investigation that was on a similar trajectory. It notified the bank of its inquiry in June 2017.
According to the Justice Department's lawsuit, First Merchants had no Marion County branches until it bought Ameriana, which was in the process of building one in Broad Ripple.
The suit noted that Marion County is home to 50 of the Indianapolis area's 51 majority-Black census tracts. Blacks represent 27% of the county's population, while no other Indianapolis-area county has a Black population topping 8.3%.
While First Merchants had 34 branches in the metro area, 33 were in majority-white suburban counties, the Justice Department noted.
Until 2015, for purposes of complying with the U.S Community Investment Act, First Merchants defined its "assessment area" as the metro areas east, north and west of Marion County but not Marion, the lawsuit said.
"The irregular, horseshoe-shaped nature of the Indianapolis [metro area assessment area] included nearly all the majority-white suburban counties … while carving out the urban core and thus almost every majority-Black census tract within the Indianapolis-Carmel-Anderson MSA," the lawsuit said.
From 2011 to 2017, First Merchants received 9,661 single-family mortgage applications in the Indianapolis area, with just 1.8% coming from majority-Black census tracts. In contrast, First Merchants' peer institutions received 102,150 applications, with 6.2% coming from majority-Black tracts—more than triple First Merchants' rate.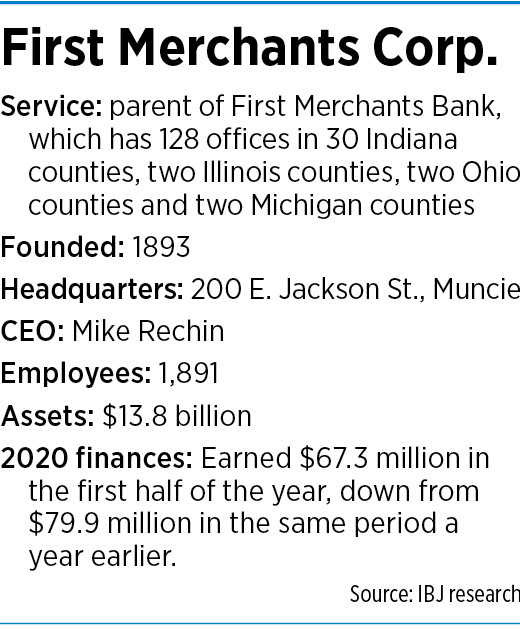 The Philadelphia-based law firm Ballard Spahr noted in an online post that the First Merchants redlining settlement was only the second negotiated by the Department of Justice after President Donald Trump took office in 2017. The other involved Minnesota-based KleinBank in 2018.
Neither settlement required the bank to pay a financial penalty. In contrast, settlements struck during the Obama administration often included fines.
For example, New Jersey's Hudson City Savings Bank agreed to pay $5.5 million in 2015 to settle allegations of redlining Black and Hispanic neighborhoods.
In 2016, Tennessee-based BancorpSouth Bank agreed to pay $3 million to resolve a lawsuit accusing it of discriminating against Black loan applicants.
However, Cincinnati-based Union Savings Bank and another bank under common ownership were spared a financial penalty in 2016 after the Justice Department accused them of redlining Black neighborhoods in three Ohio markets and in Indianapolis.
However, the banks agreed to invest at least $9 million in Black neighborhoods in the four cities.
The Justice Department had found Union, whose sole Indianapolis office is in Castleton, generated 20,329 mortgage-loan applications in the Indianapolis area from 2010 to 2014, but just 2.9% of those applications were received from majority-Black census tracts. Comparable lenders in Indianapolis received 7.7% of their applications from majority-Black tracts.
Rechin said First Merchants now plans to take the playbook it developed for Indianapolis and use it in other major Midwestern cities where it operates, including Detroit and Columbus, Ohio.
Toward that end, First Merchants in June announced a five-year, $1.4 billion community reinvestment plan, which it put together with the National Community Reinvestment Coalition and other partners.
The plan targets low- and moderate-income neighborhoods, as well as rural areas. It includes $580 million for community development lending and investments, $423 million for small-business lending and $398 million for mortgage lending.
"We are walking the talk of being the best partners we can be, not just in Marion County but in the rest of the company," Rechin said.•
Please enable JavaScript to view this content.
Fitch Affirms Ryman's IDR at 'B+'; Outlook Negative - Fitch Ratings
Posted: 25 Sep 2020 01:19 PM PDT
The 5 Best VA Loan Rates of 2020 - Investopedia
Posted: 25 Sep 2020 12:13 PM PDT
What Is a VA Loan?
A VA loan is backed by the government and is open to active and former service members and their surviving spouses in some cases. One can use a VA loan to purchase or build a home, improve and repair a home, or to refinance a mortgage. Significant benefits include reduced credit score requirements, no private mortgage insurance, no down payment requirement, and competitive rates. 
You can apply for a VA loan more than once, but the funding fee increases when using a VA loan after your first time. The VA funding fee is a one-time charge that you pay when you get a VA-guaranteed mortgage to purchase or refinance your home. In many cases, you'll have the option to roll the VA funding fee into your loan. The typical funding fee ranges from 0.50% to 3.60% of the loan amount.
You will need a certificate of eligibility (COE) which you can obtain from the VA website, or your lender can assist you with this. In order to get this certificate, you'll have to produce service-related documentation, which can vary based on whether you are active duty or a veteran.
How Does the Cares Act Impact VA Loans?
The Coronavirus Aid, Relief, and Economic Security (CARES) Act, was signed into law on March 27, 2020, to help Americans economically impacted by COVID-19. The CARES Act's aim is to help homeowners avoid home foreclosure. 
The CARES Act created options for VA loan borrowers to avoid foreclosures, such as delayed and partial payments called "forbearance." You can request a forbearance for up to 180 days without paying late fees or other penalties if you were affected financially by the COVID-19 pandemic. Other protections the CARES Act provides for VA mortgage-holders are a moratorium on foreclosures and credit score protection if you need to take advantage of the forbearance program.
Do VA Loans Vary by Lender?
The two main ways a VA loan can vary slightly from lender to lender are the rate and the minimum credit score. The Veterans Administration does not underwrite the loan; it provides a guarantee to the lenders who offer the loan program. The lenders determine the rate they will offer, as well as the other underwriting guidelines they will adhere to, such as your credit history and debt-to-income ratio. 
Credit score minimum requirements differ slightly from lender to lender, with most settling on 620 as their accepted minimum. Credit limits are not set by the U.S. Department of Veteran Affairs. The VA's only credit requirement is for the borrower to be considered a satisfactory credit risk by a lender.
The benefits of a VA loan are the same no matter which lender you choose. The key benefits of the program are no down payment requirement, no PMI requirement, and no prepayment penalties, with a VA funding fee taking the place of the PMI. 
Why Do Sellers Seem to Dislike VA Loans?
The VA has what are called "minimum property requirements." These include non-negotiable items like construction defects, termite infestation, leaks, decay, dampness, and continuing settlement in or near the foundation. While sellers engaged with buyers who bring a non-VA loan to the purchase can negotiate the repair costs of these types of items, the VA program requires these items to be fixed before they will give the lender the approval to back the lender's mortgage loan to the borrower. That puts pressure on the seller to fix these issues primarily at their cost if they want to be able to sell their home to the buyer who presents with a VA loan in their pocket.
What Problems Arise in a VA Home Inspection?
If you are purchasing a home with a VA loan, you will be required to obtain a home inspection. The cost will vary by location but ranges between $300 and $500. You will also need to obtain an appraisal for your property. The VA inspection is much more in-depth than the home appraisal. The inspector will look at the home's structural integrity, plumbing and electric systems, HVAC, roof, attic and crawl spaces, wood-destroying insects, fungus and dry rot, radon gas, and if applicable, the well and septic systems.  
The primary defective concerns the VA will have if discovered during the home inspection include construction defects, poor workmanship, foundation problems, dampness, leaks, decay, and termites.
How We Chose the Best VA Loan Rates
We reviewed the details of VA loan programs from 18 different lenders before we chose the best. Veteran-specific support, a streamlined application and underwriting process, logical website navigation, range of loan products, industry reputation for customer service, minimum credit score requirements, automatic payment features, and rates published as of September 2020 were our main investigation focus.
Blue Chip Cullen/Frost Could Make You Bank (Lots Of Money) - Seeking Alpha
Posted: 26 Sep 2020 04:00 AM PDT
This article was coproduced with Williams Equity Research.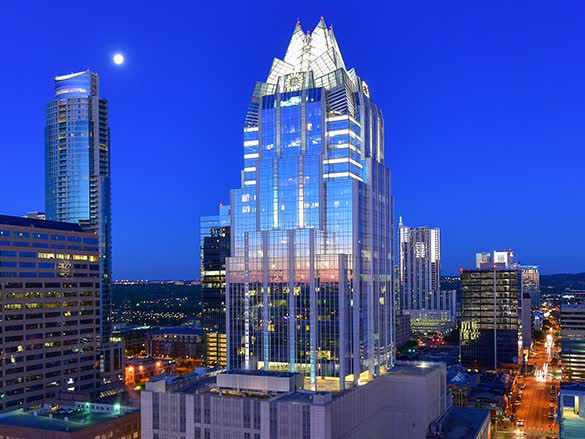 (Source)
Prior to Austin's emergence as a major job hub, the Frost Bank tower was the city's tallest building. But then came the Austonian and Independent, along with a plethora of other significantly sized structures.
The once proud Frost Bank tower is now invisible from a cityscape view. Though that's not necessarily a bad thing for its namesake.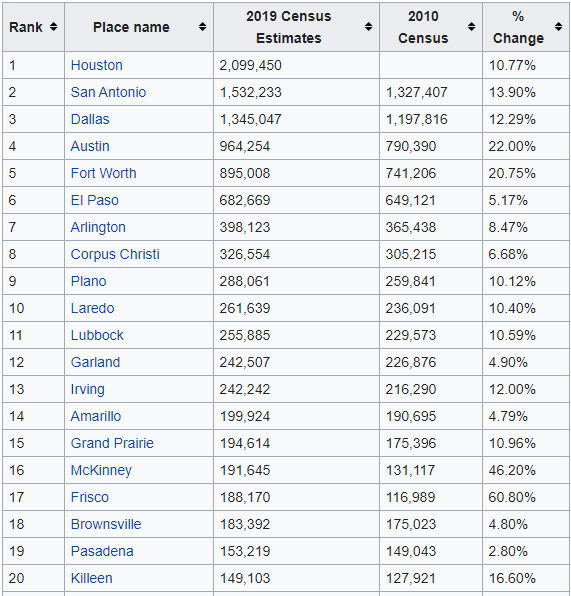 (Source)
Every single Texas city with more than 100,000 residents has grown in the past decade, especially San Antonio and Austin. They're usually ranked as the fastest-growing large cities in the nation.
In the midst of that, we find San Antonio-based Cullen/Frost Bankers (CFR) – one of the most solid regional banks covered by Williams Equity Research (WER). A pure play on the great state of Texas, it's expanding too.
It's currently No. 1 in deposit market-share in San Antonio and No. 5 statewide, despite the largest U.S. banks all having major networks in the state.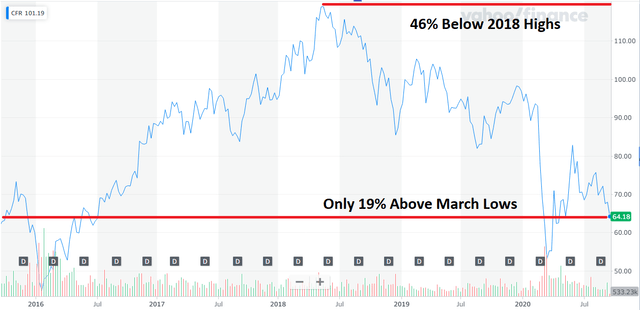 (Source: Yahoo Finance and WER)
WER has followed Cullen/Frost for a few years while waiting patiently for its valuation to come down and its loan statistics to improve. The valuation was highly attractive in March, but we had better risk-adjusted opportunities at that time. And so we focused on those.
But that was then. This is now.
Trading for less than 20% off its March lows, the true value of this banking stock has definitely gone up in our estimation.
A Historical Analysis of Cullen/Frost
Cullen/Frost, which began in 1868, is now one of the 50 largest banks in the U.S. despite being Texas bound. It received trust powers from the Federal Reserve Board in 1919 and managed to survive the Great Depression despite over 5,000 other banks closing permanently.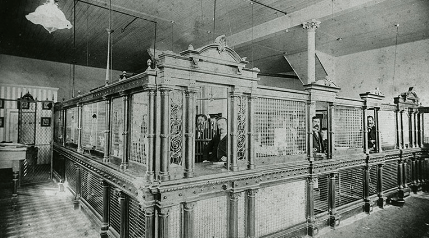 (Source. Frost bank's lobby and tellers' window in 1892.)
Texas experienced another depression-like collapse in the 1980s, this time due to the savings and loan crisis combined with a historic collapse in commodity prices. Texas was approximately twice as sensitive economically to the energy sector back then compared to today, and it showed.
At the time, Texas accounted for more than half the failed S&L institutions. Per the Federal Reserve Board's website, the FSLIC insurance fund backing the institutions decided it was cheaper to burn unfinished condos than sell them.
Yet Cullen/Frost survived anyway – the only top 10 bank there to do so without federal assistance or mergers. It also declined TARP bailout funds.
So, today, as this bank deals with non-performing loans and CECL reserve losses, it's worth remembering that this isn't its first rodeo.
And it almost assuredly won't be its last either.
And a Regional Evaluation Too
More recently, Cullen/Frost acquired the privately held Western National Bank, or WNB, for $220 million. The financial had $1.4 billion in assets, $656 million in loans, and $1.2 billion in deposits. And it has a large presence in the Midland and Odessa regions of Texas.
It's hard not to approve of that addition. Then again, it's hard not to approve of much of what management does.
It consistently offers better loan and investment rates than national banks, for one thing – no doubt part of its appeal considering how many national banks have inferior rates with much higher minimums.
In other areas, the bank is admittedly less competitive and losing business, as with structured products. But Cullen/Frost now has one of the highest-rated online banking systems of its peers. That's proven immensely valuable given over half of all new account applications are now done online.
With more than 140 locations and nearly $40 billion in assets, Cullen/Frost has just enough scale to sufficiently diversify its business and compete with larger banks. Global marketing and information services firm J.D. Power ranked it the No. 1 retail bank in Texas in 2019.
In fact, this bank has earned that every year since the award's inception 11 years ago.
This brings up an important consideration…
As a Texas-only company, it's important to evaluate its economic environment too. Using 2018 GDP, the state ranks slightly below Brazil but above Canada, Russia, South Korea, and Australia.
It contains four of the 11 most populous cities in the U.S. And its 6.6% estimated population growth from 2020 through 2025 is twice the national average!
2018 wage growth of 4.5% was also materially higher than the nationwide average of 3.8%.
Dividends Are Just One of Its Perks

(Source: Cullen/Frost 6/30/2020 Report)
Cullen/Frost has increased its dividend for 27 consecutive years, taking it from $0.04 per share in 1993 to $2.80 in 2019. Meanwhile, the stock price rose from about $7 to a high of around $119 in mid-2018.

(Source: Cullen/Frost 6/30/2020 Report. Data from S&P Global Market Intelligence and as of 6/30/2020.)
Over both the long and short term, Cullen/Frost has completely outclassed the SNL mid-cap U.S. bank index. So its pullback since mid-2018 has created a rare opportunity we want to explore further.
This entails gauging the stock's fair value.
Net interest income in Q1 2020 was $268.5 million, a 1% decrease compared to 2019. Its net interest margin, a metric we'll mention a few times, was 3.56% compared to Q4-19's 3.62%. And, going back a full year, it fell by 0.23%.
Non-interest income, however, was $212.9 million – more than double Q1-19's $96.8 million. This was primarily due to its sale of $500 million in Treasury securities, purchased a few months prior as a hedge against falling interest rates.
Excluding that gain, non-interest income still rose 7.4% over Q1-19.
Trust and investment management fees are a small portion of earnings, but they also demonstrated strong 8.8% growth. In fact – outside of an immaterial $1.9 million decline in insurance commissions and fees – every major business area showed meaningful growth.
Banks can be accurately interpreted as both very complex and simple businesses. After smoothing over interest and non-interest income for any non-recurring items, expenses alone determine profitability.
In Cullen/Frost's case, non-interest expenses were $224.2 million for Q1, up 11.1% year-over-year. Its move to a new corporate headquarters in San Antonio represents the bulk of that, with its Houston expansion another major driver.
The timing of both, admittedly, could have been better given most employees now work from home.
More on Cullen/Frost's Financials
As you might know, the January 2020 adoption of the Current Expected Credit Loss standard resulted in an after-tax reduction to retained earnings of $29.3 million for BDCs and banks. Excluding that, Cullen/Frost still experienced a $134.3 million build in its allowance for credit losses in Q1.
Obviously then – for that reason and so many other possibilities – it's critical to evaluate several quarters of financials before coming to definitive conclusions. So, for Q2, credit loss expense and net charge-offs (i.e., realized losses rather than accounting items) declined significantly year-over-year compared to Q1.
Meanwhile, net interest income declined 2.9%, with margins falling to 3.13% from Q1's 3.56%. To be sure, net interest margins are among Cullen/Frost's biggest challenges right now.
And earnings were lighter as well. Q2 saw $1.47 in earnings per share compared to $1.72 in Q2 of 2019.
Greater expenses in recent quarters have exacerbated margin concerns. But we don't see anything that warrants the stock's year-and-a-half decline. So let's move to the balance sheet.
Balance Sheet and PPP Loans
For starters, Cullen/Frost is A3/stable at Moody's and A-/negative at S&P. Taking the time to understand its loan portfolio helps to reveal why.
In today's climate, that means looking at:
Sector exposures
Deferral requests.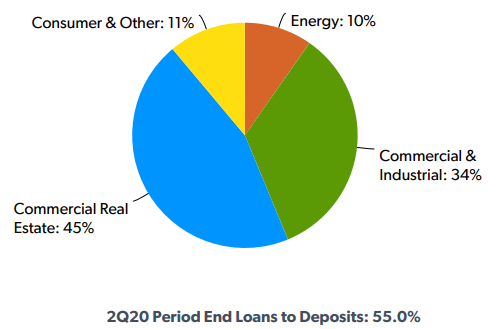 (Source: Cullen/Frost 6/30/2020 Report)
With Cullen/Frost's Texas focus and acquisition of WNB, we will say we expected a higher percentage to energy than 9.6%. Our major worry here is a significant rise in energy-related loans over time or growing non-performing loans and charge-offs.

(Source: Cullen/Frost 6/30/2020 Report)
Yet, so far, the opposite has occurred. Energy loans have declined at a 4.5% compound annual growth rate since their peak in Q1-15, while non-energy loans have grown by 7% annually over the same period.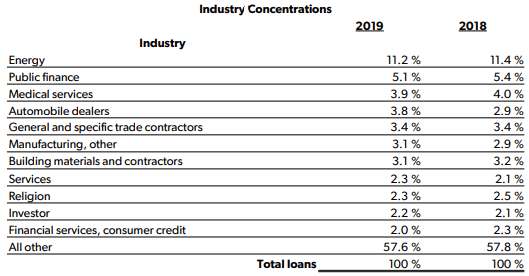 (Source: Cullen/Frost 6/30/2020 Report)
The other sector exposures are in line with expectations other than "Religion," which accounts for 2.2% of the loan pool. Religious service attendance has declined meaningfully nationwide as a result of the coronavirus.

(Source: Cullen/Frost 6/30/2020 Report)
The firm has done well managing risk in retail, hotels/lodging, and aviation though. And even restaurants and entertainment are doing OK, relatively speaking.
Overall, we estimate there are $1 billion in loans that could go south, with an 85%-95% recovery rate.
When it comes to lockdown-specific risk, if movies and restaurants continue to open, losses should be contained relative to what Cullen/Frost had on the books at the end of Q2, when the picture was considerably bleaker.
And here's a look at the risk associated with energy and non-performing loans: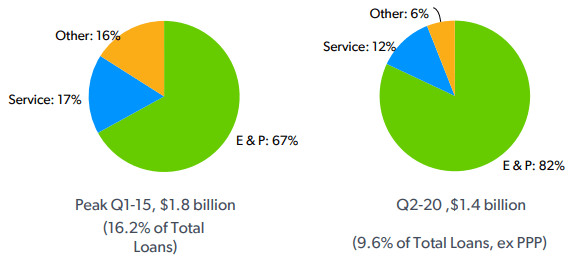 (Source: Cullen/Frost 6/30/2020 Report)
Cullen/Frost maintains approximately $1.15 billion in loans to exploration and production (E&P) companies – which are generally considered higher-risk energy plays. On one hand, Frost/Cullen isn't a newcomer to the lending game in general or commodities lending in particular.
More on Balance Sheet and PPP Loans
Energy-related allowance for loan losses as a percentage of total energy loans was 2.86% as of June 30. This makes problematic energy loans 0.28% of the entire loan portfolio.
Though CEO Phil Green stated that total non-performing assets were 0.22% per the conference call.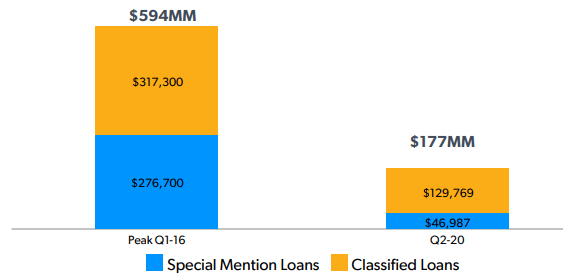 (Source: Cullen/Frost 6/30/2020 Report)
A key differentiator between now and the 2016-2018 period is that the loan pool is less risky, while the stock is much cheaper. That's a combination we pay attention to.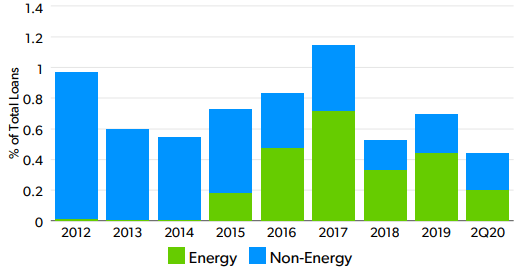 (Source: Cullen/Frost 6/30/2020 Report)
Non-performing loans peaked in 2017 as energy loans from 2015 and 2016 were dealt with. Despite the coronavirus, they were the lowest percentage wise in Q2-20 of any period since 2012.
The bank also maintains healthy 3.1x non-accrual reserve coverage.
Now, there's an area of weakness hidden in this chart.

(Source: Cullen/Frost 6/30/2020 Report)
Net charge-offs (NCOs), or the portion of loans actually written off, have spiked since early 2019 compared to peers. This is attributable to troubled energy loans from 2015 and 2016 that were finally put to rest.

(Source: Cullen/Frost 6/30/2020 Report)
Another common way to evaluate bank risk is through capital ratios. Cullen/Frost maintains lower leverage and higher common equity tier 1 and tier 1 capital ratios than its peer average, with a larger cushion than mandated.
Total deposits grew by 20.5% in Q2 year-over-year – its greatest increase ever. That's a testament to its customers' confidence in it.
The firm's municipal bond portfolio is 93% AAA rated and 100% backed by political subdivisions or agencies. We don't see notable risk there given the state's relatively strong financial standing.
Cullen/Frost was unusually active in PPP loans, issuing more than $3.2 billion in total volume. As such, it was No. 1 in many Texas metro areas, helping more customers in its San Antonio headquarters than Bank of America (NYSE:BAC), Chase, and Wells Fargo (NYSE:WFC) combined.
The amount of smaller loans also was much higher than peer averages, setting it up well from a marketing and public relations perspective. The $104 million in fees generated from the loans doesn't hurt either.
(Almost) Last but (Definitely) Not Least
Of course, a lengthy and impressive track record is great. But a nearly 50% drop in the stock price warrants concern regardless.
We've already discussed the energy loan exposure and related increase in NCOs. Though there must be more to it than that.
Right?
To answer that question, let's look at return on average assets and common equity. Both have suffered since 2018, with the stock price almost mirroring their movements.

(Source: Cullen/Frost 6/30/2020 Report)
Cullen/Frost underwrote its entire energy portfolio at:
$9/barrel crude oil in Q1 for all of 2020
$26 for the second half of 2020.
That caused a major spike in losses on paper – most of which won't be realized, given where oil trades.
The firm granted $2.2 billion in 90-day deferrals, or approximately 5% of total assets. As of July 31, only $72 million (6.5%) of the $1.1 billion of deferrals that expired requested a second deferral.
Factors such as record low interest rates have driven these two key metrics to 20-year lows. Fortunately for the bank and investors, year-to-date loan spreads have finally recovered. They're 2.45% and 0.81% versus LIBOR and prime, respectively.
Those are the largest spreads in the past five years.
The firm's concentrated PPP loan activity caused new relationships to grow by 28% in Q2 – which should open new business opportunities in the coming quarters. Improving margins and the final burial of troubled energy loans bodes well for Cullen/Frost's 2020-and-beyond outlook.
In Conclusion…
The stock currently yields 4.4% based on Q3's $0.71 distribution.

(Source: Macrotrends)
This is the highest yield in the last 20 years, despite Treasury bonds trading near all-time lows. From a risk-adjusted perspective, Cullen/Frost is providing investors the best spread over government bonds in at least 25 years.

(Source: Macrotrends)
The stock consistently bottoms around 10x trailing 12-month earnings and stalls at 14x-17x on the upside. And the current multiple is 11.5x based on Monday's close of $64.18.
We consider $55.50-$60.50 the optimal window to acquire shares. And we're targeting a total return of over 50% in the next two years.
Shares remain highly attractive up to $66.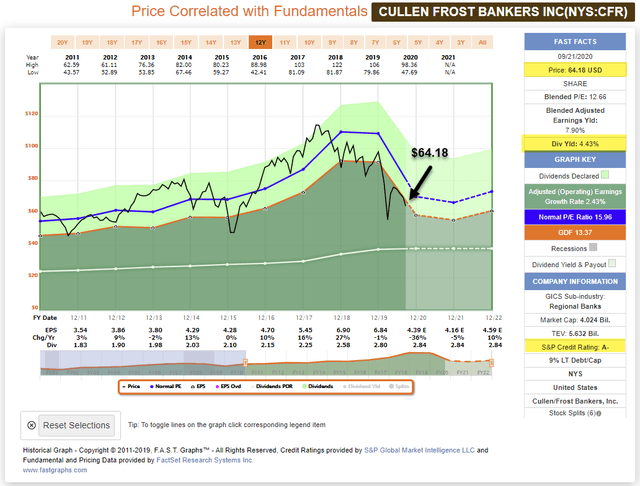 (Source: FAST Graphs)
Author's note: Brad Thomas is a Wall Street writer, which means he's not always right with his predictions or recommendations. Since that also applies to his grammar, please excuse any typos you may find. Also, this article is free: Written and distributed only to assist in research while providing a forum for second-level thinking.
Join the iREIT Revolution! (2-Week FREE Trial) 

At iREIT, we're committed to assisting investors navigate the REIT sector. As part of this commitment, we are launching our newest quality scoring tool called iREIT IQ. This automated model can be used for comparing the "moats" for over 150 equity REITs and screening based upon all traditional valuation metrics.
Join iREIT NOW and get 10% off and get Brad's book for FREE!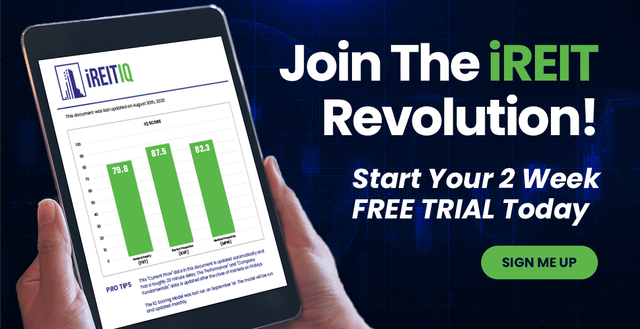 * Limited to first 10 new members * 2-week free trial * free REIT book *
Disclosure: I/we have no positions in any stocks mentioned, but may initiate a long position in CFR over the next 72 hours. I wrote this article myself, and it expresses my own opinions. I am not receiving compensation for it (other than from Seeking Alpha). I have no business relationship with any company whose stock is mentioned in this article.