Microsoft Is Replacing Employees With AI…And Other Small Business Tech News - Forbes
---
Microsoft Is Replacing Employees With AI…And Other Small Business Tech News - Forbes
Posted: 07 Jun 2020 04:02 AM PDT
Here are five things in technology that happened this past week and how they affect your business. Did you miss them?
1 — Microsoft is replacing its employees with AI software.     
This past week it was announced that Microsoft has let go several journalists and instead will be implementing AI (Artificial Intelligence) that has the ability to perform those same jobs. Nearly 30 journalists were given a month's notice following Microsoft's decision to no longer employ people who would research, edit, and choose the various news articles for one of their pages. While the individuals who worked on the site run by Microsoft did not write the stories they were curating, they did edit and pick stories from other news outlets and occasionally edit headlines and material when needed. My firm implements some Microsoft products. (Source: Novinite)
Why this is important for your business:
No disrespect to my colleagues, but the fact of the matter is that some journalism is pretty basic. Some have jobs that just take information from a press release or a news story and then convert those stories into a column. Wait a second…that sounds like me! Well, at least, I add some commentary and insights. But for stories that only require a summary to make into an article, can't AI do the same? And can't AI interpret your own technical agreements and turn them into blogs too? The future is here.
2 — LinkedIn is adding retargeting by video views and lead-generation forms.      
Companies and businesses utilizing LinkedIn will be able to have several options moving forward in helping them retargeting and scaling campaigns. During the next month, LinkedIn's Campaign Manager feature will give users the tools to redirect campaigns based off of video views as well as lead generation forms. With this move, LinkedIn aims to assist advertisers by providing them with new ways to target campaigns to individuals in order to help brands with their objectives. The newest marketing strategies have helped conversion rates go up 20% and have simultaneously cut costs. (Source: AdWeek)   
Why this is important for your business:
Here's my take on LinkedIn advertising: it's significantly more expensive than Google and Facebook. But then again you get what you pay for. Ads on LinkedIn are focused more specifically to individuals that may be much better targets. Now these same people can be re-targeted if the first ad didn't get noticed. This feature entices small business owners like me to invest more in this platform.
3 —A new cybersecurity warning reveals that hackers are targeting your smartphone as a way into company networks.  
A new cybersecurity study released information indicating that— during the last 90 days of 2019 and the first several months of 2020— there has been an increase of 37% in phishing attacks that target smartphones. While those using laptops and desktops have been used to the threat of emails containing phishing campaigns, criminals setting their sights on IOS and Android devices with these attacks is relatively new. (Source: ZDNet)
Why this is important for your business:
A warning here for your employees: with attacks being more difficult to identify on smartphones as opposed to regular computers, cyber criminals are easily able to access business accounts if users log in to phishing pages in order to access work information on the cloud.
4 — More than a million delivery drones are expected in the skies by 2026.
Recent information released by Gartner revealed that there could be over one million drones in the sky over the next 6 years. Throughout the last several months of the COVID-19 pandemic, drones have been used more and more in order to limit human-to-human contact while maintaining the ability to deliver supplies and medications all over the world. Throughout the pandemic, it has been shown that drones can often more efficiently and quickly deliver goods and medication as opposed to on-ground methods or robot deliveries. Drones are also proven to be more cost effective and can travel at a greater speed than on-ground deliveries. (Source: The Next Web)
Why this is important for your business:
This will have a major impact on the cost and timing of shipments and enable some businesses to access certain hard to reach people that could turn into more markets. I don't expect to see armies of drones flying around but I do expect shipping companies to be able to use these vehicles as yet another source to deliver products and small business owners should keep those sources in mind.
5— Online retail sales have seen their highest growth on record this past April.  
NAB's retail index for online sales has shown that April experienced the greatest monthly growth in the index's history, likely due to the many businesses and shops closing due to COVID-19. Fashion sales had gone up by 25.6%—domestically—while purchases made internationally in the same category only went up by 4.3%. Domestic sales in retail greatly surpassed international retail, which could have a lot to do with the shutdowns across international borders due to the crisis. (Source: Inside Retail AU)
Why this is important for your business:
This is not just a retail story. This story underlies the importance of diversification, a significant lesson learned from the Coronavirus pandemic. If you're able to sell stuff online – or even through other channels like distribution or independent sales rep – it's become a necessary model in case there are disruptions. The companies that embraced these alternative models were able to better navigate through the economic downturn.
Small-business owners already hurt by coronavirus shutdowns react to spotting looters on surveillance cameras - Fox News
Posted: 07 Jun 2020 01:58 PM PDT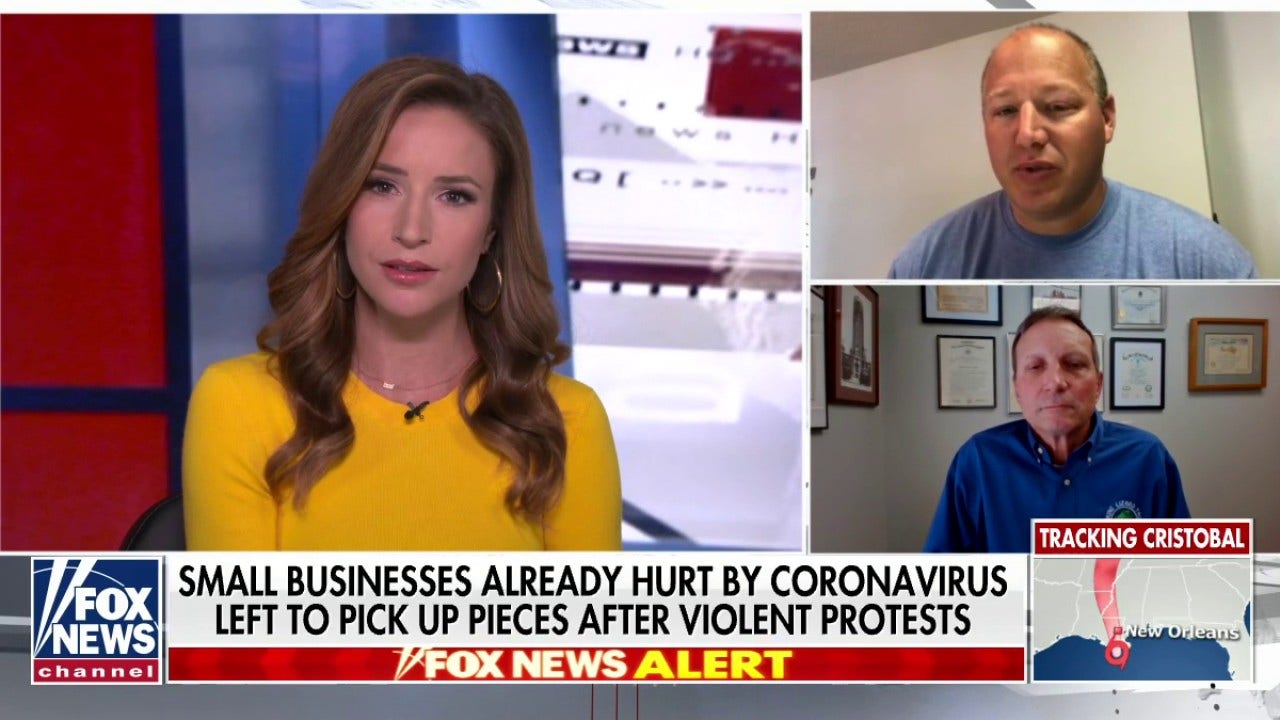 Two small business owners told "America's News HQ" their surveillance cameras caught looters destroying their businesses and they're now left with even more challenges after already reeling from coronavirus restrictions that have stayed in effect since mid-March.
"When we were being looted and broken into, the police were spread pretty thin and no one responded to that," said Jim Stage, the owner of Lloyd's Pharmacy in St. Paul, Minnesota, which has been in the area for over 100 years.
He went on to note that first responders showed up only after looters set his pharmacy on fire. Stage said firefighters "worked tirelessly all night" to battle the flames.
Stage said his business was gone, but he planned to rebuild as soon as possible. "We're trying to take care of patients as best we can amidst this," he added.
When asked if he could fulfill all of his customers' prescriptions, Stage said he has been able to "triage" patients by sending some to his other pharmacy in nearby Roseville.
"My staff has worked tirelessly to make that happen," Stage said. "There is [sic] probably about 12 pharmacies that were hit in the Twin Cities, and so, we're filling whatever we can for people and they're doing a great job of it."
Cities across the country have been trying to get a handle on the widespread unrest after video captured the police-involved death of George Floyd on May 25.
'IT WAS A WAR ZONE': SMALL-BUSINESS OWNERS WHO LOST EVERYTHING IN RIOTS SPEAK OUT
John Lane, the co-owner of Winking Lizard Tavern in Ohio, also told "America's News HQ" on Sunday that looters hit his story as he was getting ready to reopen -- after it closed back on March 15 as the coronavirus spread.
"We have 18 restaurants, 1,300 employees and we were gradually opening our restaurants and we got hit with a riot last Saturday," he explained, adding that he watched the destruction live on security cameras.
"The painful thing is that our people have been out of work since [March 15]," Lane said. "All of our managers and 95 percent of our people want to come back to work, and now we are under another delay."
CLICK HERE TO GET THE FOX NEWS APP
Lane said there was "some structural damage to the building" and he did plan to rebuild, but "we don't know exactly when that's going to happen."
Fox News' Kristin Fisher contributed to this report.
How Free Accessibility Plugins Create Fresh Problems for Small Business - Small Business Trends
Posted: 07 Jun 2020 07:56 AM PDT
As inclusivity becomes a more important topic in the public eye, web accessibility has become a serious issue for small and medium businesses. Successive court rulings have underlined that web accessibility is no longer optional for businesses of every size.
---
---
Problems with Free Accessibility Plugins
A 2018 statement by the Department of Justice confirmed that ADA requirements to make your business accessible to customers with disabilities applies to your internet presence as well as your physical stores. Recent headlines about the Supreme Court ruling against Domino's Pizza for running an app that can't be used by blind pizza-lovers only underlined the importance of this issue.
Web accessibility should concern every small business owner
Web accessibility isn't just for the big fish to worry about. Disability activists, tired of waiting for companies to comply with web accessibility guidelines like WCAG 2.0, are increasingly sending lawyer demand letters and initiating lawsuits against small businesses that have an online store or simple web presence that doesn't comply with ADA title III requirements for web accessibility.
ADA title III accessibility lawsuits against small businesses rose 181% in 2018, costing an average of $20,000 to settle out of court, and a great deal more to complete court proceedings. It can begin with a frustrated blind shopper who can't buy a pair of shoes because the shoe store site doesn't support their screen reader, or an elderly customer trying to order groceries online who can't understand how to complete their purchase because of the confusing layout of the site. Difficulties like these leave SMB websites open to lawsuits.
On top of that, SMB sites that aren't accessible hemorrhage customers who are eager to hand over their money. 61 million Americans live with a disability of some sort, but they still want to shop online, just like everyone else. It's estimated that working-age people with disabilities have a discretionary income of $21 billion, which is more than the Hispanic and African-American markets put together.
A recent study of accessibility websites discovered that a massive 98% of them fail to meet WCAG 2.0 requirements. It might give the impression that SMB owners don't care, but that's rarely the case. Small businesses want to provide services for their customers and abide by the law, but web accessibility requirements are murky and confusing.
What is web accessibility?
There is no legal definition of an accessible website, although most lawsuits use the WCAG 2.0 accessibility guidelines to measure compliance. Accessibility issues can include:
Supporting assistive technology, like screen readers used by blind internet users
Texts that are clear and easy to read for consumers with low vision or color blindness
Language that is straightforward and simple
A logical and intuitive website hierarchy that enables visitors with cognitive impairments to find their way around the site
Buttons and clickable text that are large and easy to click
Keyboard navigability, for the many people who cannot use a mouse
If a consumer with disabilities can't complete a purchase on your website because of their disabilities, it won't help to claim that your website technically meets WCAG 2.0 guidelines. The formulation of the law indicates that you could still be liable to pay damages.
Unfortunately, small businesses face a further obstacle in the form of free accessibility plugins, which claim to solve accessibility problems but end up making them worse.
The failings of free accessibility plugins
Most DIY website builder platforms offer free accessibility plugins and add-ons, such as UserWay, WP Accessibility for WordPress. Small businesses can't be blamed for thinking that once they add one of these plugins, use an accessible website theme, or both, they've fixed the issue. In reality, these plugins fall far short of true accessibility.
Most plugins successfully correct basic usability issues, such as:
Adjusting the size, spacing, and alignment of texts
Improving contrast ratio, fonts, text color so that texts are easier to read
Magnifying the cursor and highlighting links to make them more clickable
While important, free plugins consistently fail to address serious and difficult accessibility requirements like supporting screen readers or enabling true keyboard navigability around the entire site. UserWay, for example, offers its own screen reader but doesn't support the most popular ones. It takes steps that help achieve keyboard navigability, but it won't make your site keyboard fully navigable.
Common plugin issues include:
Shifting the focus correctly in popups and web forms
Supporting navigation through dropdown menus
Moving logically and clearly through website content
They also don't correct important ARIA attributes for screen readers; ALT image texts; form labels; clickable icons; and more. It's rare to find a plugin that can halt dangerous animations and flashing GIFs that can trigger a seizure in people with some kinds of epilepsy. And there is no solution for users with cognitive impairments who are struggling to understand online instructions.
As a result, small businesses are lulled into a false sense of security. They download a free plugin or app, connect it to their website, and think — with good reason — that they have resolved their accessibility issues, when really their website is a lawsuit waiting to happen.
Free Accessibility Plugins are a Lawsuit Waiting to Happen
Accessibility issues run deeper than the average small business owner may realize. With accessibility lawsuits on the rise, and motivated by a desire to serve their customers, SMB owners add free accessibility plugins to welcome everyone onto their site. But riddled with failings, these free plugins only make things worse by claiming to address accessibility issues while leaving website owners wide open to costly lawsuits.
Image: Depositphotos.com
---
Only 1/3 of Small Businesses Inform Employees of Personal Device Security Requirements - Small Business Trends
Posted: 07 Jun 2020 03:01 PM PDT
More Americans work from home now than ever before. That means a small business employee uses their own device or devices for work. But you may not be doing enough to ensure the security of those employees' personal devices.
A survey commissioned by Kaspersky found just one-third of small businesses inform employees of personal device security requirements. Kaspersky, cyber security and anti-virus providers, analyzed this issue in a recent survey.
The research found 68% of respondents use their own devices to work from home. Despite more than two-thirds of homeworkers using personal devices, just a third receive instructions on how to work safely from personal devices.
---
---
Employee Device Security
Without adequate support on device security, company data on personal devices is more vulnerable to cyber attacks. For example, Kaspersky's research found that 33% of respondents admit to visiting adult websites on the personal devices they use for work purposes. Visiting such sites makes PCs more vulnerable to cyber attacks, such as hacking data and installing malware.
Cyberattacks on Small Businesses on the Rise
Cyberattacks on small businesses are on the rise. So far in 2020, around a third of data breaches have involved small businesses. With more and more people working from home in the wake of the pandemic, small businesses are more exposed than ever to becoming victims of cyber crime.
With cybercrime on the rise, it is more important than ever small businesses don't overlook cyber security and keeping homeworking practices safe. As Andrey Dankevich, senior product marketing manager for B2B Product Marketing at Kaspersky, comments:
"Small companies may be in difficult circumstances and their first priority is to save their business and employees during the lockdown, so it is no surprise that cyber security may become an afterthought.
"However, implementing even basic IT security requirements can decrease the chances of malware infection, compromised payments or lost business data. Moreover, there are plenty of recommendations already given by cybersecurity experts that businesses can share with their employees to help them keep their devices safe. And of course, the requirements should be followed not only during home isolation but continued when staff work remotely in the future," Dankevich continued.
Importance of Connection
Concentrating on the types of devices an employee uses is not the only aspect of security small businesses should focus on.
Kasperly underlines the importance of connection and how remote workers are connecting to corporate networks. The research points to the need for employees to have access to internal systems and services. This requirement has led to businesses urgently installing remote desktop software, which cyber criminals love.
Connecting to a corporate network from home can make a business vulnerable to attacks due to other devices using the home router being inadequately protected.
IT Requirements to Keep Small Businesses Protected
To help protect small businesses from cyber crime when employees are working from home, Kaspersky advises companies to follow several IT requirements.
One requirement is it to ensure home devices are protected with an antivirus solution. Device operating systems should always be updated to the latest versions. Password protection should be switched on for all devices using home routers, including mobiles. Home WiFi connections should be encrypted, ideally with the WPA2 encryption standard.
Reliable Cloud Services and Security Training
Kaspersky recommends employers provide a list of reliable cloud storage services. Businesses should also carry out basic security awareness training. Such training can be done online. It should focus of the primary online safety practices including password management, email security and web browsing.
READ MORE: 
---
NJ Small Businesses Can Apply for up to $45 Million in Grants, June 9 - TAPinto.net
Posted: 07 Jun 2020 07:12 PM PDT
TRENTON, NJ — Seeking to give a boost to small businesses especially hard hit by the economic fallout from the coronavirus, the New Jersey Economic Development Authority (EDA) has announced that applications for the expanded Small Business Emergency Assistance Grant Program will become available at 9 a.m. on Tue., June 9.
With applications being reviewed on a first-come, first-served basis, the sample application is available by clicking here so that businesses can prepare ahead of the official program opening. In addition to English, applications for the program are offered in 10 other languages, including Spanish, Arabic, Chinese, Gujarati, Italian, Korean and Polish.
"The coronavirus pandemic is forcing all of us to grapple with unprecedented challenges, but small business owners and their employees are undoubtedly among the most severely impacted members of our communities," said EDA Chief Executive Officer Tim Sullivan. "From the start of the pandemic, the Small Business Emergency Assistance Grant Program has played a central role in supporting New Jersey's small business community. The expanded program will allow us to serve thousands more businesses in need, and our focus on equity will ensure it benefits the communities COVID-19 has hit the hardest." 
The program is a continuation of one established by EDA to mitigate the economic impact of public health policies, including the closure of nonessential businesses, to limit the spread of COVID-19. To date, $8 million has been provided to nearly 2,500 businesses across all 21 New Jersey counties.
Utilizing $50 million in federal dollars received through the Coronavirus Aid, Relief, and Economic Security (CARES) Act, EDA is allotting $5 million to support businesses in Phase 1 — being delivered in grants of up to $10,000 each to previously ineligible businesses. Included in the newly eligible businesses are those with up to 25 employees, and an addition to the types of businesses that can apply and receive funds. Home based businesses and sole proprietorships, as well as some nonprofit organizations, are also now eligible.
To learn more about EDA resources for businesses call EDA Customer Care at 609-858-6767 or visit https://www.njeda.com.
Market Your Business through TAPinto Denville!
TAPinto Denville will help you build your brand, improve your online presence and reach thousands of people in Denville and beyond. Packages include social media promotion, native content, clickable banner ads and D.I.Y. publication of events, press releases and more. Become a TAPinto Denville advertiser! Call (908) 279-0303, x224, or click here.
Sign up for our FREE daily eNews.
Like us on Facebook @DenvilleTAP and follow us on Twitter @DenvilleTAP.
Download the TAPinto App for FREE in the Google Play Store and the Apple Store today. Search for "tapinto" or "tapinto.net."
Got a news tip? Email us at fnixon@TAPinto.net.