Consumer instant gratification can prove risky - CNBC
---
Consumer instant gratification can prove risky - CNBC
Posted: 30 Sep 2019 05:30 AM PDT
There are many benefits to being able to access almost anything from the touch of your phone. There is also a downside.
"This instant gratification in the financial world can be risky," said Shelle Santana, a professor of business administration at Harvard Business School.
The reality is that more than 75% of all full-time workers are living paycheck to paycheck, according to a report from CareerBuilder.
While household income has grown over the past decade, it has failed to keep up with the increased cost of living over the same period.
From payday advances to layaway loans, there are new ways to access money to bridge the gap, easier and cheaper than ever before.
More from Invest in You:
Here's how to invest like Warren Buffett
Tips from people who didn't save till their 40s or 50s
You'll probably regret that timeshare, car payment
But any incentive to loosen the purse strings is also a slippery slope, particularly as the pain from the last recession — now a decade behind us — subsides.
"The more that we are allowing consumers to have control over their finances and commit to healthy financial behaviors is a useful development," Santana said.
However, "it could spur more spending than what consumers are capable of or what would be healthy for them to take on," she added.
Payday advances
A growing number of companies, including Walmart, are giving advances by offering what's now called "accelerated pay." Through an app, workers have real-time access to earned wages ahead of payday. Like an ATM, there is a flat transaction fee but no interest charges.
To be sure, accelerated pay is not the same as a payday loan, which is generally considered the absolute worst way to borrow money in a pinch. Often offered through storefront payday lenders or even online, those short-term loans, generally for $500 or less, can come with an interest rate that easily runs into the triple digits — in addition to a "finance charge" or service fee.
As a perk, roughly 12% of companies include accelerated pay as another way of luring job candidates as wages remain relatively stagnant across the board, according to Michelle Armer, chief people officer at CareerBuilder, although that number is expected to grow.
Layaway loans
At the same time, installment payments are shaking up how consumers finance purchases — on everything from sneakers to skin care.
Increasingly, merchants are teaming up with start-ups such as Afterpay and QuadPay, which let shoppers break their payment into installments without interest or fees — as long as they don't miss a payment. Unlike the old form of layaway, you receive your purchase after your initial payment rather than once you have paid in full.
The idea is that shoppers, particularly millennials, will be drawn to the payment method, now called point-of-sale loans, and the retailers that provide it.
It's similar to credit cards in that these companies charge the merchant, rather than the consumer, a processing fee. This phenomenon, however, is putting some pressure on purveyors of plastic, which have been reaping the benefits of a strong jobs market and low unemployment for years.
Credit cards
Meanwhile, the total number of credit cards in circulation continues to grow, which is up to more than 437 million, according to the most recent quarterly report by credit monitoring firm TransUnion.
That number peaked at just more than 496 million in the second quarter of 2008, and fell sharply during the global financial crisis by 24% to about 379 million in the third quarter of 2010, according to data from the Federal Reserve Bank of New York.
Since the Great Recession, the number of Americans relying on credit cards has only increased.
Because originations are a key driver of growth for the industry, card issuers have been upping the ante with better rewards and sign-up bonuses to attract new customers. As a result, credit card originations were up 5.56% year over year, according to TransUnion's latest data.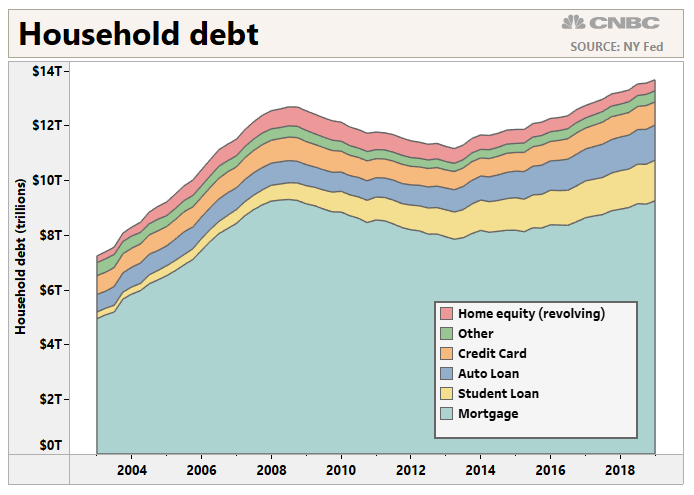 In addition to the rising number of card accounts, credit card balances are also steadily creeping higher among all risk tiers.
Outstanding balances reached a record $795.5 billion as the average debt per borrower grew to $5,645 in the second quarter of 2019, up 2% from last year, according to TransUnion.
Together, U.S. consumers added $35.6 billion in new credit card debt during the second quarter of 2019 — a near record, according to a separate study by personal finance site WalletHub.
"Our over-leveraging problem has been trending in the wrong direction for some time now, and the latest data indicate we're truly entering dangerous territory," said WalletHub CEO Odysseas Papadimitriou.
CHECK OUT: 5 questions to ask yourself before buying a home, even if you can afford a down payment via Grow with Acorns+CNBC.
Disclosure: NBCUniversal and Comcast Ventures are investors in Acorns.
From reduced EMIs to cashbacks, HDFC Bank rolls out festive offers for all customers - The News Minute
Posted: 30 Sep 2019 06:07 AM PDT
With the festive season is around the corner, HDFC Bank has launched 'Festive Treats' with offers on all banking products from loans to bank accounts, as well as major discounts on over 1000+ brands.
HDFC said in a statement that festive offers will be available across the entire spectrum of financial solutions for retail consumers as well as business customers with discounts on processing fee on loans, reduced EMIs, gift vouchers, among other benefits.
Some of offers include 10X reward points on purchasing iPhone 11 online using HDFC SmartBuy platform or a cashback upto Rs 7000 on purchase through HDFC bank credit /debit cards at offline stores.
For those purchasing consumer electronics, HDFC is also offering cashbacks and the option of converting their purchases into a no extra cost EMI on using an HDFC Bank debit or credit card.
The bank is also offering 50% off on the processing fees of business loans to small business enterprises. This translates into a saving of about Rs. 45,000 on processing fees on a business loan of over Rs 50 lakh.
Speaking at the launch, Aditya Puri, MD, HDFC Bank said, "We are confident about the India consumption story. The launch of Festive Treats is our effort to further boost it. We believe that we have the products, the reach, the platform and the partners to make this the biggest festive campaign of the season."
The bank has also tied up with over 1000+ retail brands to offer discounts, cashbacks and extra reward points on both in-store and online purchases. Leading retail and consumer brands like Reliance Digital, Samsung, LG, Apple, Yatra, OYO, Lifestyle, Myntra, Vijay Sales, Hamleys, HP, Big Basket are a few big names that will offer up to 10% off on various products and services.
The Bank's network of over 5,000 branches will also be transformed into financial supermarkets, where customers can walk in and speak to staff on queries and avail of the offers. In addition to branches, customers can also avail of the offers from digital platforms such as the website, PayZapp and SmartBuy.
Customers using HDFC Bank Credit Cards and Debit Cards during the Festive Treats campaign are entered into a lucky draw and have a chance to win a iPhone 11 every hour. One lucky winner will also get a Mercedes car as a bumper prize.